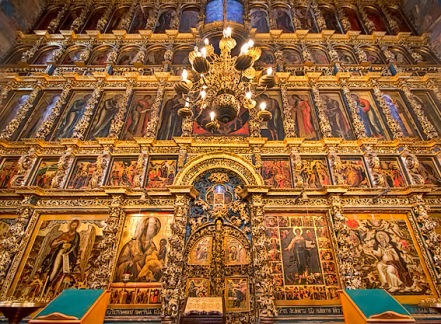 Orthodox Icon Forms and Themes
Hand-painted icons are one of the oldest types of Orthodox Christian art. Typically, they are represented by small-scale images of Jesus Christ, the Mother of God, or the saints depicted on the wooden panel. Nevertheless, there are actually many Orthodox icon forms and themes with historical and religious context. Here are just some of them you may not know about.
Iconostasis
It's not a secret that Eastern Orthodox churches incorporate famous religious icons into their architecture. Moreover, this applies not only to traditional hand-painted icons but also to frescoes and panels that may cover the columns and walls. The main wall with religious icon paintings is called an icon-screen or an iconostasis and serves as a certain boundary between the corporal and the divine. The fact is that this sacred wall of holy icons usually "separates" the nave from the church sanctuary, thus drawing the line between the invisible and visible world. However, the icon-screen may also be represented by a portable stand of religious icons that can actually be placed anywhere.
Deesis
The Deesis or Deisis, which means "supplication," is a centerpiece of the iconostasis. Furthermore, it is its most prominent part that is associated with the Last Judgment. The Deesis usually represents a set of religious icons, including an icon of Christ sitting on a throne with a book in His hand, an Orthodox icon of the Mother of God, an icon of St. John the Baptist, and sometimes other holy icons of saints and angels. It should be noted that the Deesis can also be represented by a single religious icon depicting the same persons with Jesus Christ in the center.
Diptych and Triptych 
Diptychs and triptychs are religious icon paintings made of two or three panels respectively that are joined together by a hinge. Traditionally, these iconographic forms represent hand-painted icons of Jesus Christ and the Mother of God, Jesus Christ and the Archangels St. Gabriel and St. Michael, Jesus Christ and St. John the Baptist, and others.
Minyeia 
A Minyeia or Menology is one of the most popular types of Russian religious icons that first appeared in the 15th century. Most of them are represented by one or double-sided Orthodox icons depicting saints for every day of the particular month. However, the most interesting are the calendar icons for an entire year (The Yearly Menaion), with the Resurrection in the center. Such pieces of the religious icon art are truly spectacular as they show lots of small icons of saints in every little detail. The elements are sometimes so small that it is impossible to see all of them with the naked eye.
In addition to all of the above, we also would like to note Hagiographical icons that first emerged in the 13th century. They are also called "vita" icons due to the fact that such religious paintings represent a large image of a particular saint, surrounded by smaller images depicting different scenes and events from their life. It goes without saying that there are lots of other no less interesting and amazing Orthodox icon forms and themes that are worthy of your attention. Just browse our unique collection to learn more!