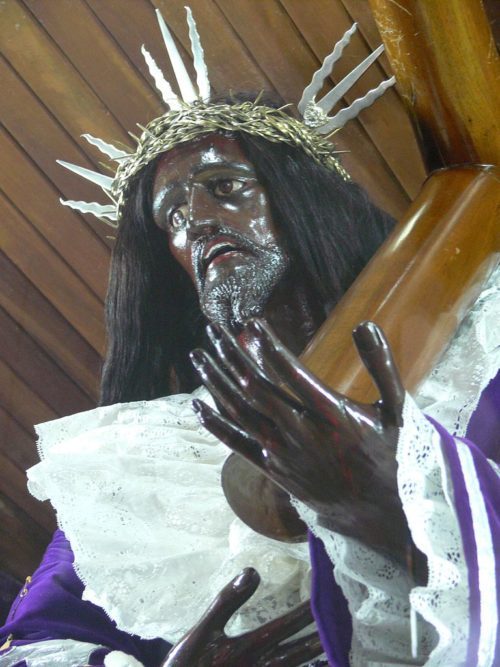 Cristo Negro: An Arcane Mystery of the Black Christ of Portobelo
Jesus Christ was chosen to be the Savior of humanity. Every devout Christian worships the Messiah as He deserves all the glory and praise because of who He is. The world is full of sacred objects used by people to utter prayers, but there are few like Cristo Negro. The statue of the Black Christ in Portobelo, Panama, is known worldwide, and yet the mystery behind the wooden sculpture is still unknown. Why is Nazareno so valued, and what role does it play nowadays?
The history of Cristo Negro
Over the years, the statue of the Black Christ has acquired a considerable number of nicknames. These include "Nazareno," "Naza," "el Cristo," "el Negro," and "el Santo," among others. Despite the popularity of the sculpture, its origin is still uncertain. As the story goes, a group of fishermen found the statue that was most likely washed ashore at Portobelo. Initially, it was stored in the small church, but then it was placed in Iglesia de San Felipe, a Roman Catholic parish church built in 1814.
Cristo Negro is a life-size statue of Jesus Christ carrying a cross. It has a collection of robes donated by locals and pilgrimages. As a matter of fact, it is changed twice a year. The first one is red and used during the Black Christ Festival on October 21. The second one is of purple color and is featured during Holy Week. Once a robe is used, it won't be reused anymore in the future.
Pilgrimage
Cristo Negro is closely associated with pilgrimage. People from all parts of Panama walk dozens of miles to see the statue. It is said that people adorned with purple robes crawl the last mile to the church on their knees and hands to receive the blessing. The Black Christ is also unofficially considered a patron saint of criminals, as many criminals make the pilgrimage to atone for their sins.
An interesting mystery about the statue
Many miracles have been attributed to the state of the Black Christ. There is a ceremony during which the statue is carried in the arms across the very place where it was once discovered. Following the procession, the body of Jesus is then returned to the church at midnight. Some locals say that you cannot return it to the church prior to midnight because the Black Christ becomes too heavy to bear.
All in all
Cristo Negro remains one of the most fascinating images of the Son of God today. The mystical origin and the central importance of the stature for pilgrims make it even more valuable.