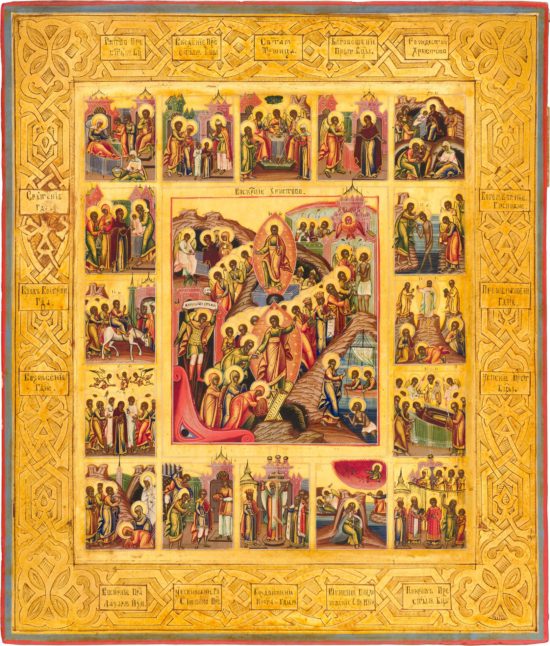 Church Feasts in the Antique Russian Icon of the Resurrection
The given antique Russian icon depicts the liturgical feasts, with the scene of the Resurrection — the Harrowing of Hades in the center. It has a rather extensive Feast cycle, with 16 border scenes in total. This compositionally complex religious image is also called "polnitsy."
Church feasts in the antique Russian icon of the Resurrection
Antique icons like this one were widespread among the believers because they encompassed the whole liturgical year. They were normally commissioned to be presented at churches as temple icons. Some people also ordered them for their at-home altars.
The centerpiece is rather packed with scenes: it simultaneously portrays several events that happened during, before, and after the Resurrection of Christ. The detailed image depicts the Rising from the Tomb and the Harrowing of Hades, which are placed on the sides, and the center is reserved for the Angel, the Myrrh-bearing women, and the Revelation of Christ to the Apostles.
This antique Russian icon features the Twelve Great Feasts and the Minor Feasts. The Great Feasts include the Nativity of Christ, the Transfiguration, the Theophany, the Elevation of the Holy Cross, the Entrance of the Mother of God into the Temple, the Annunciation, the Nativity of the Mother of God, the Ascension, the Entrance into Jerusalem, the Dormition of the Mother of God, Candlemas, and, finally, Pentecost.
The Minor Feasts include the Beheading of John the Baptist and the Pokrov of the Mother of God. The other two scenes featured in the cycle are the Raising of Lazarus, which thematically corresponds with the Resurrection, and the Fiery Ascent of the Prophet Elias, which symbolizes the promise of the Kingdom of Heaven. The Prophet Elias and the Prophet Enoch are depicted welcoming salvaged souls in front of the Heavenly Gates.
The given antique Russian icon carries traces of older iconographic traditions. While it was most likely painted in the 19th century, its composition follows a pattern that was developed by Palekh icon painters in the late 18th century. Other stylistic features of the icon suggest that it was created in Mstyora, where the entire religious art movement was blooming at the time. Mstyora masters were well-known for being able to replicate old icon painting traditions, which is evident from the simple yet heavily decorated style of this piece. The geometric patterns on the borders of the Feast cycle resemble the "neo-Russian" style that was popular in the 1860s-1890s.