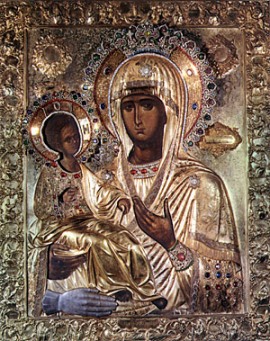 Christian Icon of the Mother of God "Of the Three Hands" and Its History
The wonderworking Christian icon of the Mother of God "Of the Three Hands" is highly revered in the Orthodoxy. Created by Saint John the Damaskus in the 8th century, the original icon is now kept in the Serbian Monastery of Hilandar, which is visited by thousands of people seeking healing and peace of soul. This Hodegetria icon has an incredible history telling about the famous critic of iconoclasts John the Damaskus and the mysterious appearing of the "third hand" in the icon.
The history behind the Christian icon "Of the Three Hands"
As the legend says, Saint John lived in the time of iconoclasm, when it was dangerous to be a dedicated follower of religious icons. In 726, the Byzantine Emperor Leo III "the Isaurian" announced an edict prohibiting the veneration of icons. Saint John, who was a heresy rival, highly criticized the actions of the Emperor and was slandered afterword for his "treasonous" writings. The Caliph ordered to cut off the monk's right hand as punishment for his disloyalty. Suffering physically, John begged to be given his cut-off hand. He put it to the joint and fell for praying before the icon of the Theotokos. Saint John was begging the Mother of God to heal his hand so that he could write again in the name of the Christian Church. Afterword, in dreams, he saw the Theotokos who promised him to restore his hand and urged John to work hard all his life. After awakening, Saint John the Damaskus saw that his hand was healed, with just a red scar on the wrist, signifying the wonder performed by the Mother of God. Being grateful for the healing, Saint John made a silver hand and put it to the icon; hence, this Christian icon got its name "Of the Three Hands."
The description of the icon
The Christian icon of the Mother of God "Of the Three Hands" depicts the Theotokos with the Divine Baby on her lap. In the lower part of the icon, under the right hand of the Mother of God, there is a third human hand forming part of the silver icon setting. There is also a tradition of painting the third hand as if it belongs to the Mother of God, rather than attached separately.
The icon of the Mother of God "Of the Three Hands" is very popular among people with various hand diseases. Besides, it is considered the protector of people engaged in handicrafts and creative work and is especially revered by iconographers and artists.
Stay with us to learn more about other Christian icons and their amazing stories!