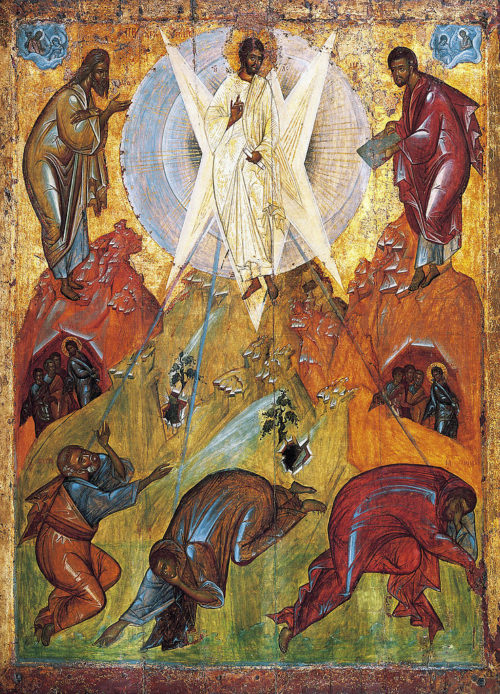 Christ Icons of the Transfiguration
The Feast of the Transfiguration is one of the oldest and most significant Christian feasts for every believer. In Russia, this event is often called the Apple Feast of the Savior, and it is celebrated in the summer, on August 19. The iconography of the Transfiguration of Jesus recreates the scene from the Gospel in sufficient detail, containing numerous symbols and elements through which the spiritual meaning of the event is revealed. Christ icons of the Transfiguration narrate the manifestation of the Lord's glory and His immortality.
The great Christian feast of the Transfiguration
The biblical story of the Transfiguration tells us that Jesus led three of His disciples (Peter, John, and James) to a mountain to witness His transfiguration. As they prayed, Christ's face shone like the sun, and the disciples were so dazzled and frightened by this bright light that they fell before Jesus, covering their faces. The Transfiguration of Christ was also marked by the appearance of the two great prophets, Moses and Elijah, who came from the Kingdom of Heaven to talk to Jesus.
Thus, Christ showed His disciples what would happen after His crucifixion: He would rise again after embracing suffering and show all humans the way to the eternal Kingdom of God.
Christ icons of the Transfiguration: description and symbolism
In the center of the Transfiguration icon is Christ in snow-white robes, shining with divine, wondrous light. He towers over the rock, encased in a mandorla and floating in the air. The mandorla shimmers with light and dark shades, revealing the spiritual essence of Christ. Moses and Elijah stand beside Jesus as symbols of the living and the dead: Moses suffered the human death, while Elijah was taken alive into heaven.
The lower part of Christ icons of the Transfiguration depicts the Apostles who have fallen down, covering their faces with hands so that the divine light emanating from Jesus would not blind them. Only Peter does not hide his face, but looks directly at the Savior, expressing his delight at the grace and glory of the transfigured Christ.
Apart from the main scene, some antique Russian icons depict several other scenes, such as the ascent of the Apostles and Christ to the mountain, the Savior lifting His disciples from their knees, and the scene showing them all leaving the mountain.
The iconography of the Transfiguration plays an important role in making every Orthodox Christian aware of the need to develop and strengthen their spirituality and faith to start the way to the Eternal Kingdom. This path is not possible without the obstacles and sufferings that Christ also encountered in the earthly world, but you should not forget that it is always darkest just before the dawn.
Christ icons of the Transfiguration are endowed with hope and deep meaning, which makes them a truly important part of the entire Christian world.