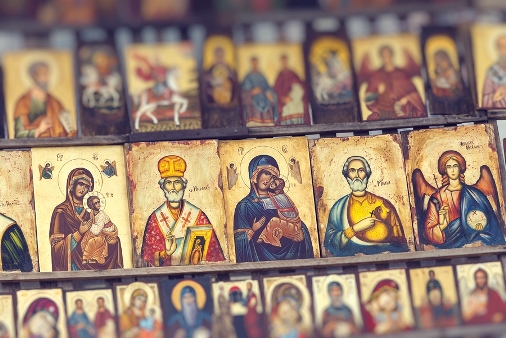 Choosing an Orthodox Icon: Major Types
To choose the right Orthodox icon is not that easy, especially if you are not familiar with the Christian symbolism used in religious icon painting. Colors, garments, gestures, text, figures, and objects – they all play a very important role in the understanding of the icon's meaning. Thereby, it is essential to learn more about Orthodox icons before making a purchase, and you should start with their major types.
Orthodox icon types
Depending on the depicted image and scene, Orthodox icons can be divided into the following ten categories:
Icons of Christ – most important Christian icons depicting Jesus Christ (e.g. icon of Christ Made Without Hands, Christ Pantocrator, Christ in Majesty, Man of Sorrows).
Icons of the Mother of God – icons depicting the Theotokos (e.g. the Vladimir Icon of the Mother of God, Our Lady of Kazan, the Tikhvin Mother of God).
Icons of saints – icons depicting saints, martyrs, monastics, prophets, hierarchs, apostles, and other holy people (e.g. the Holy Apostles Peter and Paul, the Great-Martyr Catherine, St. Nicholas, the Wonderworker).
Icons of angels and archangels – icons depicting the holy archangels (e.g. Orthodox icon of the Holy Archangels, Michael, Gabriel, and Raphael) and guardian angels who protect people on Earth.
Feast icons – icons depicting different Church feasts and events described in the Holy Scripture (e.g. the Resurrection of Christ, the Nativity of Christ, the Elevation of the Holy Cross).
Symbol of faith – icons of the Holy Trinity, depicting the Father, the Son, and the Holy Spirit, which is a symbol of "one God in three Divine Persons."
Measured icons – icons of patron saints, usually given as Christening gifts. The measurements of such an Orthodox icon often match the baby's height at the moment of baptism.
Family icons – icons depicting Jesus Christ, the Theotokos, a guardian angel, and patron saints who protect each person in the family. Such icons are usually custom painted.
Wedding icons – a pair of icons depicting Jesus Christ and the Mother of God, given as a wedding gift to the bride and the groom.
Triptych – three icons with the related content, design, and size (e.g. icons of Jesus Christ, the Mother of God, and St. Nicholas, the Wonderworker).
Hopefully, this simple guide will help you choose the right Orthodox icon for your home, collection, or as a gift to your family member or friend. If you have any questions, do not hesitate to consult our specialists!