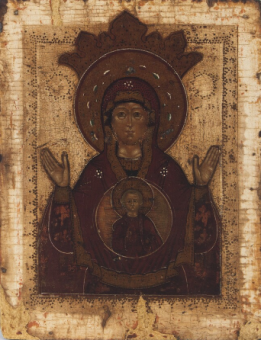 Bruun Rasmussen Auctions of Russian Icons. Part II
In our previous article, we wrote about the upcoming Bruun Rasmussen live auction of important antique Russian icons and art, which will be held in Copenhagen on December 1. However, being one of the largest in Scandinavia, this auction house is also known for its many online sales holding almost every day of the year. One of such auctions, dedicated to Russian art, is now open for bidding.
The Bruun Rasmussen Online Auction of Russian Art features 261 lots, including paintings, porcelains, bronzes, jewelry, and vintage furniture. However, what makes it special is that this December sale offers 61 beautiful religious artifacts and antique Russian icons painted in the 18th – 19th centuries. Moreover, this collection includes not only traditional icons on wood, but also a variety of small travel icons decorated with silver and enamel. Plus, all of the icons offered for sale online come at very attractive prices so that every connoisseur of religious art could find something to his or her liking.
Auction highlights
1. Icon of Our Lady of the Sign "Znamenie" (18th century)
A beautiful Russian icon depicting the Mother of God with her hands raised in prayer and a medallion with the Christ child blessing the world (see photo above). Tempera on panel. 34×26.5cm.
Estimated at $1,300.
2. Icon of the Ascent and the Resurrection (18th century)
A perfect example of antique Russian icons depicting the Resurrection – the Harrowing of Hades scene. Tempera on wood, covered by gilt-silver oklad. 32×28cm.
Estimated at $1,600.
3. Icon of the Smolenskaya Mother of God (18th century)
One of the most renowned types of Russian icons depicting the Mother of God holding the Christ child. Tempera on wood panel with kovcheg. 31×27cm.
Estimated at $1,300 – 1,600.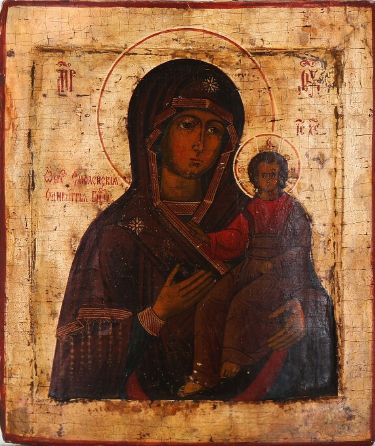 4. Icon of St. Seraphim (late 19th – early 20th century)
A hand-painted icon of St. Seraphim, mounted in kiot. Tempera on wood panel, covered by punched and chased silver-gilt oklad. 56×41cm.
Estimated at $1,900.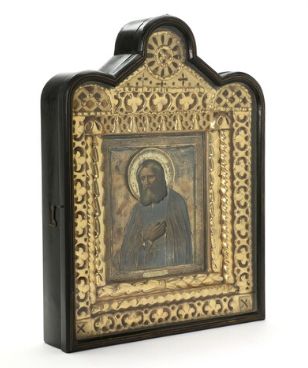 5. Russian travel folding tritycon (18th century)
A unique example of early Russian travel folding icons, with a highly venerated image of Our Lady of Perpetual Help. Covered by silver rizza mounted in brass frame. 27×9.5cm.
Estimated at $2,400 – 3,200.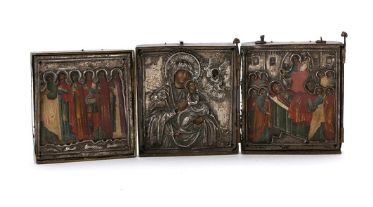 These were only 5 of 61 antique Russian icons and artifacts put up for sale by Bruun Rasmussen. This online auction of Russian art will run until December 4, 2017.
Photo credit: Bruun Rasmussen/bruun-rasmussen.dk