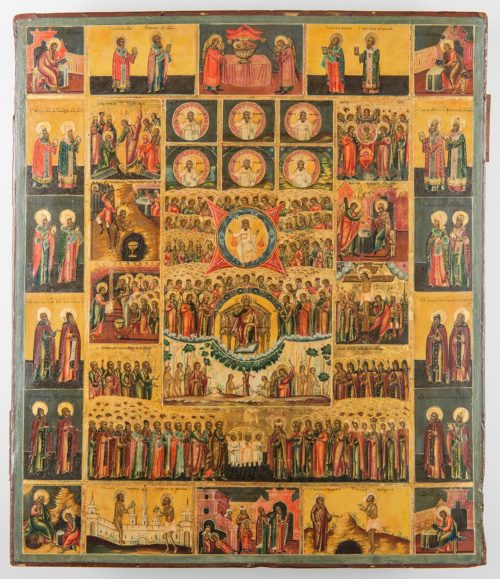 Antique Orthodox Icon of the Hexahemeron
The complex composition of the antique Orthodox icon of the Hexahemeron is what makes it so unparalleled in Russian iconography. In our private collection, we are blessed to have such an excellent piece of antique religious art, dedicated to the scene of the six days of creation. The icon dates back to the middle of the 19th century, and we believe that it was created by the masters of Palekh, one of the most prominent iconographic centers of the Russian Empire. Despite slight chafing of the paint on borders, the paintwork has been preserved in good condition. So, what's the significance of this holy icon?
Antique Orthodox icon of the Hexahemeron: history and importance
The tradition of depicting the Hexahemeron in iconography was based on the treaties that the Church Fathers, namely George of Pisidia, Basil of Caesarea, John – the Exarch of Bulgaria, and others, left in the Genesis creation narrative. It is a creation myth that tells that God made the world in six days. The antique Orthodox icon of the Hexahemeron has a number of scenes in its composition. These traditionally include Christ in Majesty, the Return of Christ on Judgement Day, and the Sabbath of All Saints, among others.
The first hand-painted icons of such type appeared at the end of the 15th century. One of the curious reasons behind that was that people were inclined to wait for the end of the world. This fact did influence the structure of such icons. Later, however, the icon painter V. I. Kokhlov reworked the composition and added scenes of creation and the figures of saints on the borders. That particular version became widespread starting in the 19th century. But what does the Orthodox icon of the Hexahemeron actually depict?
The border scenes consist of the images of the Evangelists, Monastic saints, Church Fathers, Metropolitans, and Fools-for-Christ. In the center, you can see the six creation scenes that are basically the heart of the icon. Among them are the God Sabaoth in the circle of the Angelic host, Christ and the Mother of God seated on thrones, John the Baptist with the Heavenly Powers, the Exile of Adam and Eve, and the Fall of Man against the background of the Tree of Life. They are followed by the six Feasts, where every day of the week, except for Saturday, symbolizes a certain feast.
Overt decorativeness, the silhouettes of the figures, active color juxtaposition, and other stylistic features prove the fact that the given antique Orthodox icon of the Hexahemeron is a piece of art made in the mid-19th century by someone closely tied to the Palekh icon painting tradition.