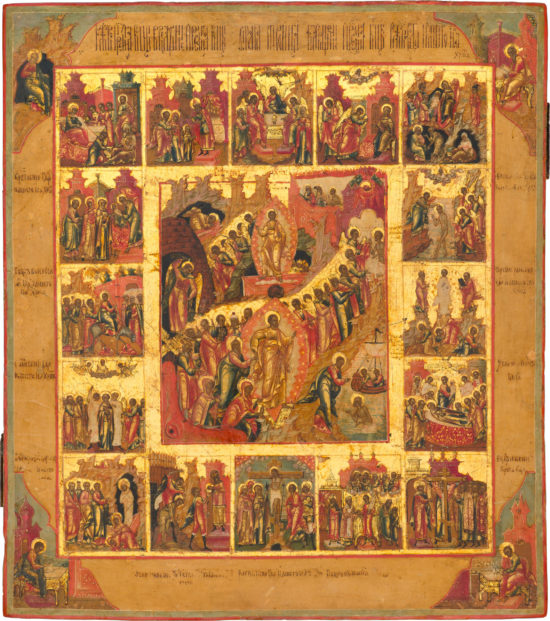 Antique Icons of the Resurrection by Palekh Masters
The Resurrection – the Harrowing of Hades was one of the most popular themes in Russian Orthodox icons of the 19th century. Many antique icons of the time also feature sixteen border scenes dedicated to the main religious Feasts and the Four Evangelists. This particular Orthodox icon is a vivid example of that: as we can see, the centerpiece is quite detailed and compositionally complex. The latter characteristic indicates that this icon most likely was painted in Palekh, one of the centers of Russian religious art. The icon painters of the Palekh school had a great influence on the development of the iconographic scheme we can see in the given image.
Antique icons of the Resurrection by Palekh masters
The centerpiece of the given icon depicts several scenes and figures at once: the very middle bears images of the Rising from the Tomb and the Harrowing of Hades, with the corners reserved for Saint Peter at the Empty Tomb and the Revelation of Christ to the Apostles. The Gates of Hell are placed in the left part of the centerpiece, which is a common feature of many antique icons created by Palekh masters. It is worth mentioning that this particular motif would appear in its less detailed version in later-period Palekh icons.
The centerpiece is enclosed in sixteen border scenes featuring twelve main liturgical Feasts of the year. The highest tier includes the Old Testament Trinity depicted in the Palekh iconographical tradition, and the lower tier features the Elevation of the Holy Cross. This Feast was especially significant for Palekh icon painters, as the altar in their main church was consecrated in its honor.
A lot of hand-painted antique icons were custom-made for private commissioners. It is most likely the reason why this particular icon of the Resurrection has an additional depiction of the Crucifixion scene in the bottom tier, which was not very common for this type of image. The images of the Four Evangelists are another characteristic of the icon, which ties it to the Palekh tradition.
Palekh's influence is visible in many unique traits of the given icon, including the highly detailed painting style, the proportions of the figures that appear elongated, and the complex but purposeful composition. The fact that border scenes are rich with figures and ornaments showcases the talent of the iconographer.
The given icon is an exquisite piece of Russian religious art and an outstanding example of Palekh antique icons, making it a worthy addition to our collection.