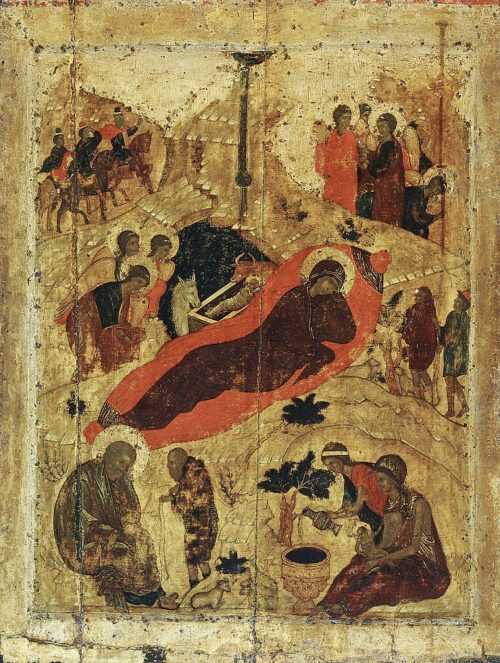 Antique Icons of the Nativity of Christ: A Biblical Story
On January 7, the Eastern Orthodox Church celebrated a great feast devoted to Jesus Christ's birth. The biblical story of the Nativity has undergone certain changes over the years, and it is even often considered unhistorical. However, some aspects are still constant for most Orthodox believers. Antique icons of the Nativity represent extended and narrative images fully revealing the biblical story of Christmas.
The biblical story of the Nativity 
Mary is visited by the Archangel Gabriel
The Virgin Mary lived in Nazareth and was married to Joseph. One day, the Archangel Gabriel appeared to her and announced the imminent birth of the Son of God who would be called Jesus Christ. The spouses decided to go to Bethlehem to raise the Child there.
The road to Bethlehem
The journey to David's city was long and tedious. Mary and Joseph took only the essentials and things they hoped to sell along the way. Mary was already pregnant at the time and was traveling on a donkey with her husband by her side.
The birth of Christ
When the couple arrived in Bethlehem, there was no place to stay for the night. An innkeeper offered them a place to sleep in his stable. Since Mary was about to give birth, they agreed. That same night, Jesus Christ was born. Mary provided Him in the stable, wrapped Him in snow-white swaddling clothes, and put Him in a manger. Meanwhile, the shepherds on the hill saw a bright star in the sky and soon an angel descending to earth from heaven. He proclaimed to them the birth of the Son of God and told them to go and worship Him. Antique icons also often depict the Magi with gifts to the Christ Child. 
Antique icons of the Nativity of Christ 
Antique icons of the Nativity are notable for their brevity and canonicity. They show the scene of Jesus's birth in the stable and the worship of the shepherds and the Magi. Later religious icons are more detailed and monumental. This iconography includes the following events:
Joseph's doubts before the birth of Jesus;
the journey of the Magi to Bethlehem;
the destruction of the infants;
the journey to Egypt.
Color contrast seen in the icons has a symbolic meaning. The manger with the snow-white clothes of Jesus stands out against the oppressive darkness of the cave, which symbolizes sin and wicked life. The main meaning of the icons dedicated to the great feast of the Nativity of Christ is the eternal struggle between good and evil.