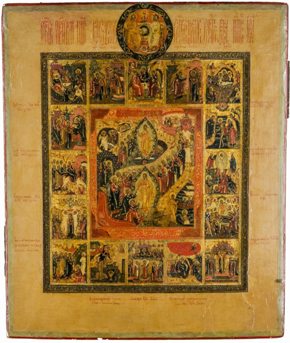 An Expert Look at Russian Icon Art
Russian icon art is the ancient craft that originated at times that are still under the veil of mystery. Although the research process in this field is far from easy, some people sacrifice their time and efforts to uncover facts about this unique form of art. Such an enormous amount of work requires a receptacle to store the information. In this case, it is "Russian Icon Collection," a book featuring the most recent knowledge about antique Russian icons and religious icon art overall.
The appearance of "Russian Icon Collection" became possible thanks to the collaboration of our diligent team and the famous Museum of the Russian Icon in Moscow. We are proud to be part of this partnership and really honored to work with the leading experts in the Russian icon field – Anna Ivannikova and Sergey Khodorkovskiy. Our joint endeavors gave birth to this exceptional book, which is hopefully to be available in a printed version very soon.
One of the authors of "Russian Icon Collection" is Anna Ivannikova, a well-known name in the history of Russian icon art of the Imperial era. Being an art expert and historian, she made a name for herself by taking part in numerous research projects and academic studies dedicated to old Russian art. Anna also made a significant contribution to studying antique icons and biographies of Russian iconographers, working on over 20 major exhibitions in different countries. Moreover, today, Anna Ivannikova is a curator of the Late Iconography collection in the State Hermitage Museum.
"Russian Icon Collection" comprises the exceptional collection of notable antique icons of the 19th century. Most of them were created in the famous icon painting centers of the Russian Empire, such as Kholuy, Palekh, and Mstyora. It is worth mentioning that all described in the book icons can be divided into several groups, depending on their belonging to a particular historical period and composition. For instance, some Orthodox icons from the collection are dedicated to the Resurrection of Christ, others are directly related to the Mother of God or certain saints. Each group has its special cultural value that encompasses various styles, traditions, and history of Russian icon art.
It is noteworthy that all icons in the book have detailed descriptions and analysis presented by the experts. In this regard, they use the most convenient and efficient way to explain what is depicted in the icon and why this or that work of art is valuable. This simply means that everyone can look at the thrilling world of Russian icon art through the eyes of the expert.