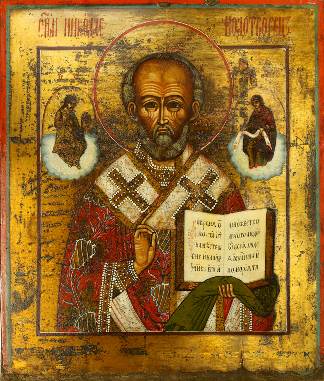 What You Should Know about Russian Icons
Since the collapse of the Soviet Union, an ever increasing number of Russian icons have been seen throughout the world. Most of them refer to the early 20th century. However, there are also much more ancient Russian icons that can be found on sale today. Thereby, no matter whether you are an Orthodox icon collector, a religious icon art connoisseur, or simply a Christian believer, there are some things you should know about Russian icons before purchasing one of them.
Background
Russian icon has borrowed its name from the Greek word "eikon" that means "image." It traces its roots back to the year 988, a period of Rus' conversion to Christianity. According to Eastern Orthodox iconography and its distinctive style of painting religious icons, Russian icons represent a holy image painted on a wooden panel. For today, the most frequent examples available for sale refer to the period from 1700 to 1917, with the majority painted between 1850 – 1917.
How Russian icons were made
Russian icons were traditionally painted on carefully prepared wooden panels preliminarily covered with a special cloth with many layers of a primer. The paints were made from a mixture of egg yolk, natural pigments, vinegar, water, and a small amount of rye beer. To brighten and protect the colors, the finished image was usually varnished with boiled linseed oil. In fact, the secrets of Eastern Orthodox iconography were passed on from one artist to the next so that almost all traditions of painting religious icons have survived to the present day.
How Russian icons were used
Until the early 20th century, Russian religious icons could be found everywhere: in Russian Orthodox churches, roadside shrines, hospitals, homes, stables, shops, and even in prisons. There were Russian icons for any occasion, even for the prevention of house fires and protection of cattle, not to mention that they were given as marriage and newborn gifts. Moreover, every Christian believer sought to acquire their own patron saint icon. This simply means that numerous Russian icons were produced at that time so that it's not surprising that there are lots of valuable items today.
Categories of Russian icon images:
Icons of Christ depicting Jesus Christ and scenes from His life as a flesh-and-blood person;
Marian icons depicting Virgin Mary and her Divine Son;
Saint icons such as St. Vladimir, St. George, or St. Nicholas icon;
Religious icons depicting the Trinity, highest archangels, guardian angels, and other holy persons;
Multiple image and multiple scene icons depicting several holy images or scenes.
Value
The value of the Russian icon is usually determined by the following:
Condition (the more restoration or damage – the lower the price);
Quality (skillfully hand-painted Orthodox icons are valued most, especially those with silver-gilt, ornate repousse riza, jewels, and other decorative elements);
Depiction (icons, depicting Jesus Christ, the Mother of God, and well-known saints, are usually valued more);
Size (the larger the icon – the more valuable it is);
Age (the older the antique icon – the higher the price).
In any case, it is always better to use the services of the professional dealer when purchasing a Russian icon, especially if you are new to this matter. So do not hesitate to contact Russian Icon with any questions you have!