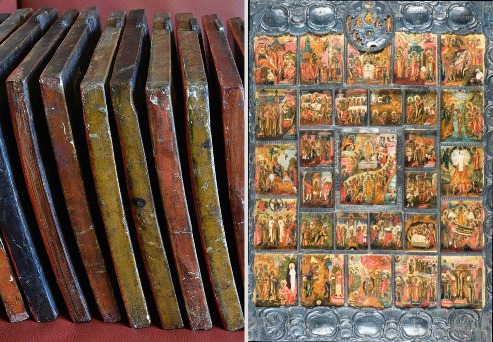 We Will Offer Our Unique Russian Icons Book for Sale Soon
Icon painting is more than just painting. It is a complex form of art, which combines human artistic possibilities with the divine presence. Traditional icon painting is rooted in theology and requires great spiritual effort from the iconographers who fast and pray before getting to work. This all makes religious icons, especially antique ones, truly unique objects that serve as windows into heaven, connecting the viewer with God. Some of the greatest examples of Orthodox icon art are described in our very special book created in collaboration with the Museum of the Russian Icon. Its digital version is already available on our website, and we are also pleased to announce that we will offer this amazing Russian icons book for sale soon.
Unique Russian icons book for sale
The Russian Icon Book was born from the collaboration between Russian Icon and the Museum of the Russian Icon in Moscow. The latter is one of the best and most important art institutions dedicated to the art of icon painting, which features over 5,000 exhibits. These include early Christian art, Byzantine antiquities, Russian and Greek icons, Ethiopian art, and many more. Founded by the late Russian entrepreneur and philanthropist Mikhail Abramov, the Museum works with some of the leading art historians and experts in Russian iconography, offering a diverse program of various events and exhibitions for free.
Thanks to our collaboration with the Museum of the Russian Icon and their support, we were able to release a book that presents a collection of the rare 18th-19th century icons created in the major iconographic centers of the Russian Empire. These include a series of antique icons "Resurrection – The Harrowing of Hades," a series of Marian icons, various icons of saints, Menaion icons, and other notable examples of Russian icon art. Russian Icon will offer the printed version of this Russian icons book for sale in the nearest future.
It is also worth noting that all of the icons featured in the Russian Icon Book were studied and described by two well-known specialists in Russian icons of the Imperial era: Sergey Khodorkovskiy and Anna Ivannikova. Their descriptions are detailed and provide clear information about each icon included in the book. Besides, the book features high-quality images showing the collection in all its beauty and glory.
We will offer our unique Russian icons book for sale soon. It will be available through the gallery, at the Museum of the Russian Icon in Moscow, and through reliable online platforms. Stay with us for the latest news and updates!