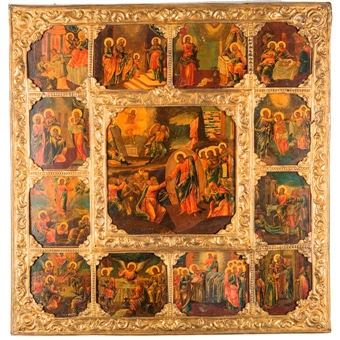 We Buy Russian Icons of Museum Quality!
In Orthodox Christianity, religious icons are sacred works of art that are believed to connect the worshippers with the spiritual world. Most of them are typically paintings on wood, but there are also icons created with ivory, mosaic tiles, gemstones, and other materials. In this diversity of religious icon art, Russian icons occupy a special place. They are highly valued and appreciated by both Christian believers and collectors of fine art. The best and rarest of them are estimated at tens and even hundreds of thousands of dollars, being sold at the leading auctions worldwide from time to time. At Russian Icon, we buy Russian icons as well, offering our clients a seamless experience and great deals that are beneficial to both parties.
We buy Russian icons of museum quality
We know that selling an antique icon can be a hassle, but, at Russian Icon, we do our best to ensure that this process is as easy and smooth as possible. Our team has been dealing with exceptional pieces of religious icon art for many years, and we take great pride in our record of professionalism and honesty. At Russian Icon, we offer the highest prices for museum-quality hand-painted icons, along with friendly and knowledgeable service that is genuinely responsive to the client's needs. So, what icons can you sell to us?
We buy Russian icons of museum-quality, those that come in good and excellent condition and can become part of a meaningful collection. These include Jesus Christ icons, icons of the Mother of God, icons of saints, Menaion icons, feast icons, icons of angels and archangels, icons of the Holy Trinity, and more. We buy Russian icons of any size, from small family icons to large pieces that were once part of a church iconostasis. If you have something worthy to sell, please feel free to contact Russian Icon. Our experts will be happy to discuss the details of the deal with you.