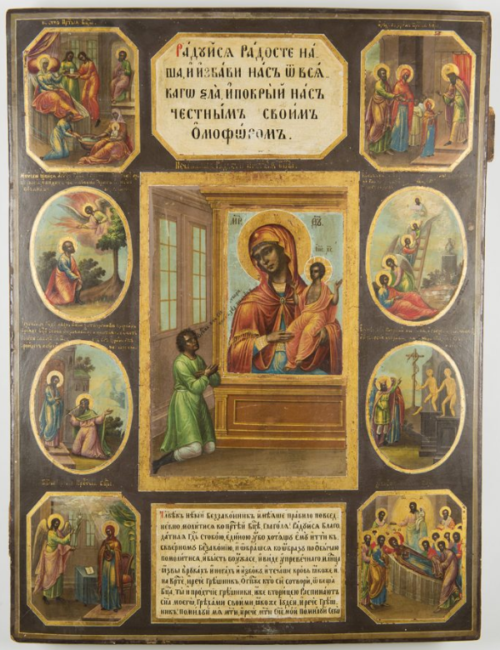 "The Unexpected Joy" Icon of the Mother of God
"The Unexpected Joy" is one of the most famous traditional icons of the Mother of God and Christ in Russian iconography. The piece dates back to the 19th century and encompasses Marian Feasts and Old Testament prophecies depicted all around the central part of the icon with the Virgin Mary and Baby Jesus. Let's take a closer look at the composition of the image.
"The Unexpected Joy" icon of the Mother of God
The central part of the image is occupied by the figure of the Mother of God, which is encircled by the Marian Feasts. These include the Entrance of the Mother of God into the Temple, the Nativity of the Mother of God, the Dormition of the Mother of God, and the Annunciation. You can also see the Old Testament prophecies confined in ovals and located at the sides of the centerpiece.
The text on the upper field of "The Unexpected Joy" icon belongs to the Akathist that addresses the Pokrov of the Mother of God with the words, "Rejoice, our Joy, and deliver us from the evil, and cover us with the omophorion." As for the lower section with the text, it shares the extract of legend about the icon, which was told by Saint Demetrius of Rostov in his monograph "The Watered Fleece." It is where the narrative source of the antique icon takes root. The treatise contains the description of miracles connected to the Marian icon of the Saint Elias monastery in Chernihiv. Overall, the piece is considered a symbol of the endless Mercy of the Mother of God who brings the sheer joy of forgiveness and salvation.
At the same time, there is no direct evidence that the icon was named after the miracles from the treatise. The fact is that the title was not mentioned by Saint Demetrius in his text – it was given at a later date. It is suggested that the narrative and iconography come from Western Christian religious icon painting traditions. According to history, people started venerating this particular Orthodox icon in the 19th century. It is also closely tied to the beginning of veneration of another Marian image – "The Unburnt Bush."
"The Unexpected Joy" icon is valued for its aesthetic color juxtaposition, unique concept, and high-toned artistry. It was created in Moscow somewhere in the 1860s-1870s. It is a sheer pleasure and honor to have such a piece in our collection.