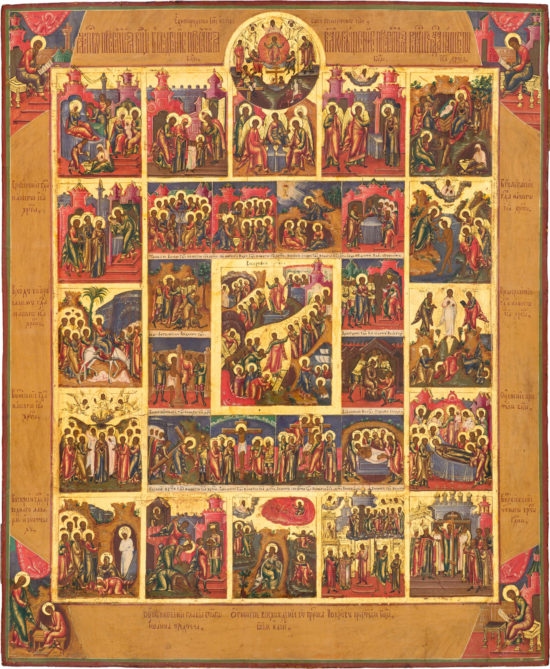 The Theme of the Resurrection in Religious Icon Art
The Resurrection — The Harrowing of Hades is one of the most prominent motives in Russian religious icon art. It was especially popular in the 19th century and was often part of a larger composition, placed in the center of the image. Apart from the Harrowing of Hades, the Resurrection icons also usually feature two cycles of border scenes — the Feast cycle and the Passion cycle.
The Theme of the Resurrection in Religious Icon Art
This specific icon of the Resurrection is a more detailed depiction of the famous scene. Apart from the traditional image of Christ, it also depicts the descent of the angels to the Gates of Hell and the Old Testament righteous, along with the Good Thief, heading to the Kingdom of Heaven.
The icon is quite packed with figures and stories, including two scenes from the Gospel, which are titled "The Revelation of the Angel to the Myrrh-bearing women" and "The Revelation of Christ to the Apostles on the Sea of Galilee." Unlike earlier pieces of religious icon art of the 16th and 17th centuries in which the said scenes are usually part of the Passion of Christ cycle, in this icon, they are included in the centerpiece.
Overall, the scenes of the Passion cycle represent the traditional iconography of the period. The only exception is the additional depiction of Judas collecting the 30 silver coins, which chronologically takes place before the Last Supper. This scene is depicted in the top right corner border scene of the Passion cycle and is followed by the Arrest of Jesus.
The Feast cycle traditionally begins with the Nativity of the Mother of God and ends with the Elevation of the Holy Cross. It also features such Feasts as the Raising of Lazarus, the Fiery Ascent of the Prophet Elias, and the Beheading of John the Baptist. One could point out the symbolic significance of those scenes being included in the Feast cycle. In a way, they offer thematic support to the Resurrection scene in the centerpiece: John the Baptist as the forerunner of the coming of Christ, and the scenes depicting Lazarus and Elias as the forerunners of His rising from the dead.
In the corners of the icon, one can see the Four Evangelists: Matthew, Mark, John, and Luke. The Monogenis is depicted in a circle right above the Old Testament trinity.
The given icon is attributed to the religious icon art tradition of the Palekh school, which was founded around the 17th century. It was distinguished by specific stylistic features formed under the influences of Moscow and Suzdal icon-painting schools.