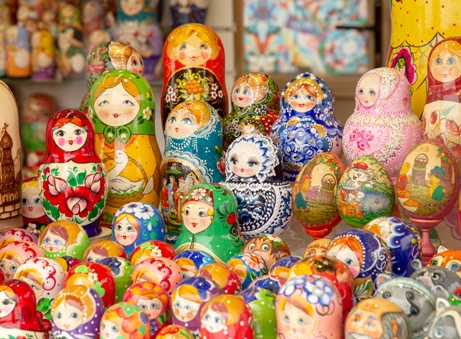 The Russian Store: From Russia with Love
In our previous blog post, we wrote about professional art advisory services and where to find reliable Russian icon experts in New York. This information is very useful if you are going to acquire high-value antique icons for your personal collection. However, what if you are looking for more affordable religious icon paintings or simply beautiful Russian gifts for your friends or family? In such a case, let us draw your attention to The Russian Store, an online store that offers a variety of high-quality Russian collectibles in the United States!
The Russian Store
The Russian Store was founded in 1992 with the aim to introduce top quality Russian cultural treasures to the American market in a convenient and pleasant way. Since then, this online store has been a go-to place for Russian gifts and collectibles of any kind, most of which are hand-made by talented Russian artisans or purchased directly through Russian suppliers. So what exactly can you buy at The Russian Store?
Nesting dolls, both traditional and themed (including holiday dolls, kids dolls, celebrity dolls, animal dolls, sports dolls, and collectible dolls).
Russian eggs (including Faberge style eggs, Russian Easter eggs, Orthodox icon eggs, crystal eggs, decorative wooden eggs, and egg pendants).
Jewelry (including Russian style jewelry, diamond jewelry, gemstone jewelry, amber jewelry, turquoise jewelry, gold jewelry, silver jewelry, and fashion jewelry).
Jewelry boxes (including decorative trinket boxes, winter lacquer boxes, floral lacquer boxes, Khokhloma lacquer boxes, and Troika theme lacquer boxes).
Figurines (including glass figurines, tin soldiers, folk art thimbles, key chains, and refrigerator magnets in a wide variety of shapes).
Kitchenware (including Zhostovo hand-painted trays, tea glass holders, wooden spice sets, kitchen aprons, Khokhloma candle holders, and Golden Khokhloma bowls).
Christmas décor (including Russian dolls ornaments, wooden Christmas ornaments, Nativity nesting dolls, Santa nesting dolls, and wooden Ded Moroz figurines).
Religious items (including modern Russian Orthodox icons, antique Russian icons, wooden Orthodox crosses, silver Orthodox crosses, and gold Orthodox crosses).
Memorabilia (including Russian military patches, collectible coins, military medals, Russian flasks, Soviet and Russian flags, military belts, and Soviet pins).
Hats & Clothing (including fur hats for men and women, wool shawls from Orenburg and Pavlovo Posad, military hats, and Russian sailor T-shirts).
This list of Russian gifts and collectibles is not exhaustive, so we highly recommend that you visit The Russian Store to get acquainted with all the amazing Russian treasures offered for sale. Whatever your needs and budget, you are sure to find something to your liking!