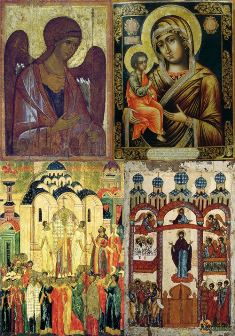 The Renaissance of Orthodox Icons
Russian religious icons are rooted in the Orthodox religion that is traced back to Jesus Christ and the Apostles. For today, they can be divided into two large groups that follow traditional rules of Eastern Orthodox iconography. The first one includes icons of Jesus Christ, the Mother of God, and other holy figures; the second – religious icons depicting events and scenes from the saints' lives. There are actually hundreds of different themes that can be shown in the Orthodox icons, even though sometimes they may look rather similar. Moreover, there is not a single Christian icon with a person casting a shadow. Why is it so? That's simple! A saint, as well as a pure soul, doesn't cast a shadow; therefore, religious icon paintings are also called "images of the soul."
How Orthodox icons are created
First of all, it should be noted that quality Eastern Orthodox icons are created to be robust so that they could stay in good condition for years. Just look at antique Russian icons from our unique collection! They are just perfect, although most of them were created more than a century ago. According to iconographic tradition, such religious icons are painted on the shaped and smoothed wooden panels with lots of layers of lacquer and color. Besides, iconographers – usually monks – use only warm colors consisting of natural pigments.
Eastern Orthodox icons in the United States
Many people wonder why there are so many rare and antique Russian icons in the United States today. Though the first collections of religious icons appeared in the US in the XVIII century, the biggest amount of them came after the Russian Revolution of 1917. The fact is that after the First World War and during the communist regime in Russia and other Soviet Socialist Republics, many holy icons were destroyed or moved from churches to museums. Those remained were preserved by Christian believers in their homes, came as legal exports or simply with immigrants to the US and other Western countries.
New life of religious icons
After the fall of communism, the religious icon art was rediscovered. Since then, Orthodox icons have become real collectibles sought after by collectors from all over the world, and this applies not only to antique icons but also to modern religious icons painted according to the ancient iconographic tradition. However, although there are lots of excellent examples of contemporary icons created in the old traditional way, those made centuries ago are still outside from competition among all hand-painted icons available for sale today. What's more, they are collected not only for some religious reasons but also for their fine craftsmanship, charm, and intrinsic artistic value. Some of these rare antique icons are presented in our online gallery, so that you have a great opportunity to complement your collection with one of them. Get your own "image of the soul" right now!