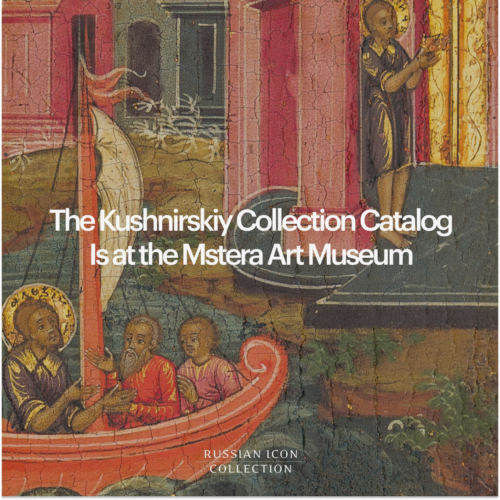 The Mstera Art Museum Has Included Our Catalog in Its Collection
Mstera, a town located in the Vladimir region, Russia, is widely known for being a center of icon painting since the end of the 17th century. Today, we are incredibly happy to share with you that the Mstera Art Museum has added our book "Russian Icons from the Mid-17th to the Early 20th Centuries: The Collection of Oleg Kushnirskiy" to its collection. As the goal of this icon catalog is to help preserve the history of this beautiful part of Russian cultural heritage, we are thankful to the Museum's administration for supporting us in our mission.
The Mstera Art Museum has included our catalog in its collection
The Mstera Art Museum was founded in 1919 as part of Mstera art workshops and became a separate entity in 1996. Located in a mid-19th-century historical building, it houses around 3,000 objects ranging from the 17th to the 21st century. The Museum's permanent exhibition titled "The Art of Mstera" follows the history of craftsmanship and fine art in Mstera starting from the 17th century. It includes various wooden carvings, pieces of traditional whitework embroidery, beautiful decorative items made from metal and wood, and, of course, icons.
The rich history of the Mstera icon painting tradition is centuries long. The icons created in this region are stylistically and compositionally different from icons made in other places. A lot of icons from the region are featured in our Russian icon catalog, which makes our collaboration with the Mstera Art Museum even more special.
"Russian Icons from the Mid-17th to the Early 20th Centuries: The Collection of Oleg Kushnirskiy" is a comprehensive catalog of antique icons from the private collection of Oleg Kushnirskiy who spent years finding icons in Russian villages and saving them from decay. The book includes colorful illustrations of religious works of art, which would not look out of place in any museum's collection. It also features an informative description of each piece and scholarly articles to provide additional context and help the readers immerse themselves in the world of Russian icon painting.
Russian Icon Collection is always ready to collaborate with regional museums dedicated to educating people about the beauty of Russian icons, especially if they share the places and dates of origin with pieces in our catalog. As of now, our book has been included in the collections of various libraries across Russia and is on sale in bookstores and museums. We are glad to join efforts with the Mstera Art Museum in ensuring the Russian icon painting tradition receives the attention it deserves.