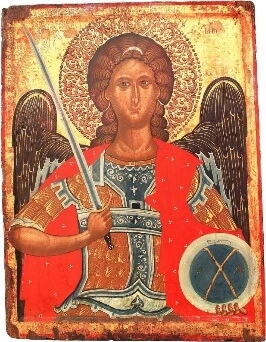 The Meaning of Orthodox Icons of the Archangel Michael
Such holy creatures as angels are quite often mentioned in the Holy Bible. They appear to people whenever God wants His will to be done. Angels do not experience fears and doubts, pain and worrying. They do not have sins. One of such perfect creatures is the head of the angelic hosts, the Archangel Michael. His Orthodox icons can be found in any Russian monastery or church. They have miraculous power to assist believers to overcome fears and give faith.
The Archangel Michael – the Defender of the Faith
It is believed that the Archangel Michael is the supreme and closest to God angel. According to the Christian tradition, he has interceded for humanity a thousand times and has always been the Defender of the Faith. Perhaps, his most known miracle is the salvation of the church at Colossae. Saint Michael saved this church from the pagans who wanted to destroy it by diverting two rivers' flow directly into the church's path. According to the legend, the Archangel appeared amongst the rivers and channeled the waters underground.
The Supreme Angel is known not only for his courage and bravery but also for his spiritual purity because only pious people can realize the real purpose: to always come to the aid of others.
Orthodox icons of the Archangel Michael
There are multiple variations of the Orthodox icons of Michael. More typically, in religious art, the Archangel is portrayed as the Chief Commander of the Heavenly Hosts, with a sword, shield, spear, and other warrior armor. Quite often, he is depicted with the dragon under his feet, which represents the devil.
Russian icons usually depict Michael dressed in red, sometimes with the image of the Baby Christ in his right hand. His grand figure represents a human being at the time of his death, while the image of the Baby represents his eternal soul. This icon originated from the belief that the Archangel Michael, along with the Guardian Angel, takes the souls of the dead. Besides, the head of the Archangel can be adorned with ribbons that symbolize the spiritual hearing of the angel.
Since Michael is also given the role of a judge at the Last Judgment, he is often depicted with scales. Initially, this image was used in Catholic iconography, but later, it was adopted by the Orthodox Church as well. The scales weigh the good and evil deeds of each person, hence the depiction of an ugly demon in one bowl and a praying figure in the other.
It is also worth noting that Orthodox icons of the Archangel Michael are believed to help people overcome mental and physical illnesses and protect them from their enemies.