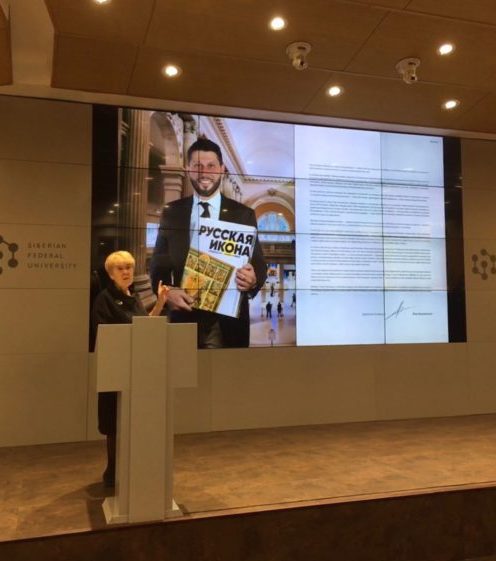 The Journey of Russian Icons from America to Siberia and Back
Russian Icon Collection spoke with Lyudmila Belgorodskaya, professor of the Department of Russian History, World and Regional Civilizations at the Siberian Federal University, where a presentation of the catalog of the Kushnirskiy collection of Russian icons took place a while ago. She shared with us her personal perception of the collection, as well as her thoughts on the Russian-American cultural ties.
You have known the Kushnirskiys family for a while? How did you meet? 
Lyudmila Belgorodskaya: I met Ilya (Kushnirskiy, Russian Icon Collection Director — RIC) two years ago on the boat "Maxim Gorky," where I was invited to give lectures on Russian culture. It was such a long cruise, ten days from Krasnoyarsk to Dudinka, across all of Russia. Ilya attended my lectures and asked questions, but I had no idea who he was or what his interests were. On the last day of the trip, he told me his father had a collection of  Russian icons. Ilya then flew back to the United States, and we started to correspond and became friends.
You organized and led a presentation of the recently published catalog of Oleg Kushnirskiy's icon collection at the Siberian Federal University. How was the book received? 
When the catalog was published this spring, I introduced it to my students, who expressed a lot of interest in it. We decided to feature the book in an event during an academic conference called the "Stepanov Readings," a reputable forum with a long history. The presentation of the catalog attracted students from philosophy, art history, and social sciences, who were also very interested and posed numerous questions. I told them about the icon collection and the book, as well as shared the story of my encounter with the Kushnirskiy family. Our meeting, I believe, is a nice example of how both professional and personal relationships can grow out of a single conversation.
What is your personal perception of Oleg Kushnirskiy's icon collection? 
While the traditional focus of art historians lies on ancient Russian icons, pre-Mongolian ones, Oleg Kushnirskiy's collection offers a different perspective, featuring icons from the more recent era of the 17th to the 19th centuries, which I find interesting and valuable. Personally, I found myself drawn to images of saints – real people that were later canonized – rather than biblical figures. Initially, I knew very little about some of these saints. As I leaf through the book, I continue to find an abundance of meaning in these works. This is beautiful and this is what makes antique art relevant today. 
As a researcher, you have also worked in the United States. What do you think of the fact that Oleg Kushnirskiy gathered his collection of Russian icons in America?
Let me digress a little before I answer your question. I think that the cultural ties between Russia and America are particularly important in the history of this collection. I'll give you an example. My doctoral dissertation was titled "The Image of Russia in the Pages of British and American Encyclopedias of the 20th Century." While working on it at the University of Saint Petersburg, I noticed that many related artifacts, such as icons and portraits of Russian emperors, were housed in Hillwood Museum, Estate & Gardens In Washington, D.C.  Upon visiting America, I fell in love with Hillwood's rich collection of Russian icons, gathered by Marjorie Merriweather Post, the wife of an American ambassador to the Soviet Union in the late 1930s. Since I live in Krasnoyarsk, I've also been interested in the "Siberian trace" on American soil. Among others, this trace includes an extensive collection of books, paintings, drawings, and documents about Russian America, amassed by Gennadiy Vasilievich Yudin, a wealthy merchant from Krasnoyarsk. He sold this collection to the Library of Congress in 1906. 
I see the icon collection assembled by Oleg Kushnirskiy in America as another example of the intricate cultural and historical connections between our two countries. In this context, the release of the catalog becomes yet another bridge, which, most importantly, was built by an individual – a private collector.