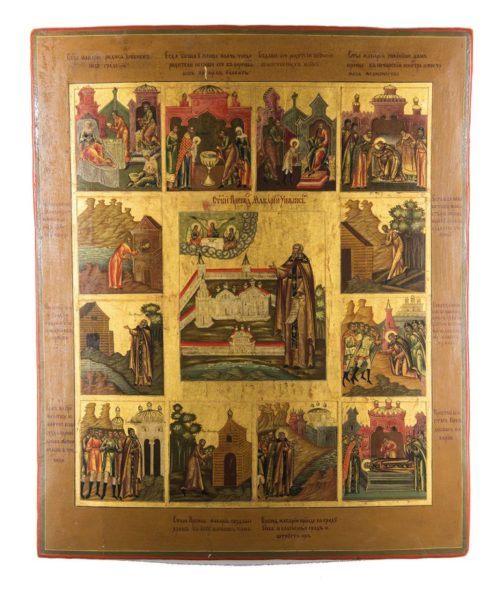 The Icon of Saint Macarius of Unzha, with 12 Border Scenes
Macarius of the Yellow Water Lake and the Unzha was a Russian Orthodox saint and a miracle worker famous for the foundation of, at least, four monasteries in the Nizhniy Novgorod region. In our collection, we have a distinct antique icon dedicated to the figure of the great ascetic. The given 19th-century wooden icon depicts the saint in the center, surrounded by 12 hagiographical border scenes that recap some of the most crucial moments of his life. Despite the age, the paintwork has luckily remained in pristine condition, except for small fallouts of paint on the borders of the piece. What should you know about the icon of Saint Macarius and its subject?
The icon of Saint Macarius of Unzha, with 12 border scenes
When Macarius was a 19-year-old boy, he secretly left home and joined the Pechersky Ascension Monastery where he had his hair tonsured by a monk. This scene is depicted in panel 4 of the featured icon of Saint Macarius. Surprisingly enough, the young boy showed obedience and won the respect and approval of other monks very quickly. However, he didn't stay long in the convent and left it after some time. That's when he started treading a path of a founder.
As mentioned before, the saint established at least four monasteries, with one of them portrayed in panel 9 of the icon of Saint Macarius. The ascetic founded his first monastery after leaving Nizhny Novgorod. It was constructed in honor of the Epiphany of Jesus Christ. Not long after that, the hermit traveled to the Yellow Water Lake where he and a group of pious people would later lay the foundation of the Zheltovodsky Makariev Monastery of the Holy Trinity. He was also responsible for the establishment of the Makaryev Sviyazhsk Monastery and the Unzhensky Makaryev Monastery later in history.
The type of icon of Saint Macarius that you see became a widespread phenomenon in the 17th century after the saint's canonization. Traditionally, icon painters depicted the miracle worker as standing in cloistral garments near the monastery with a view of the Volga River. It is worth mentioning that the representation of a monastery is symbolic and doesn't always represent the real structure. As for the hagiographical border scenes, they are common for many Russian Orthodox saints and contain the most important life events such as birth, monk's life, miracles, and canonization.
The stylistic peculiarities of the given icon are common for the traditionalist movement in religious iconography. It was widespread from the middle to the third quarter of the 19th century when the Palekh icon tradition was followed in a simplified fashion.