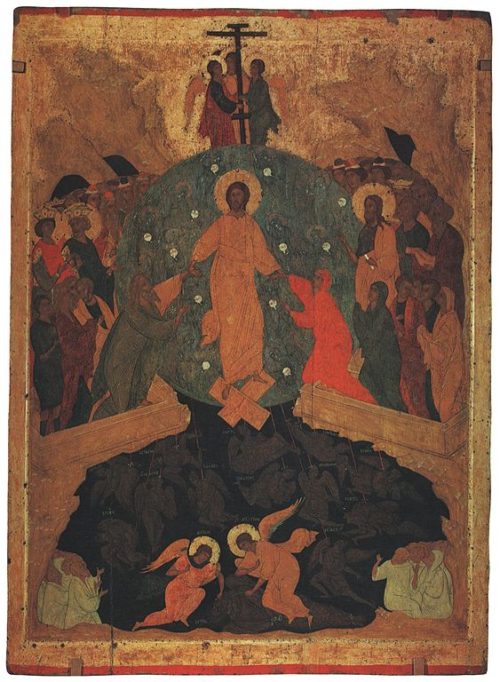 The Harrowing of Hell Icon by Dionysius
The Harrowing of Hell icon by Dionysius is a solemn and monumental image that plays an important role in the history of Orthodox icon painting.
Authorship and the plot
Dionysius was a bright representative of the Moscow icon painting school of the late 15th – early 16th centuries. He used scenes of the Last Judgment, Hexaemeron, and the Apocalypse in his work more often than Andrei Rublev who lived a century before. Dionysius's icons reflect the development of theological thought in the second part of the 15th century.
The Harrowing of Hell icon is one of the most recognizable images created by Dionysius and one of the most significant images in Christian iconography. The icon depicts the scene from the Passion of Christ cycle, and it would be part of the Feasts tier of the church iconostasis if not stored in the Russian Museum.
The Harrowing of Hell icon represents events that occurred after the Crucifixion of Christ and His burial when He was resurrected and came down to hell to save the souls. This plot is a metaphor for the idea of victory over death and the forces of evil.
Harrowing of Hell icon. Iconography and composition
The composition of the Harrowing of Hell icon is divided into several parts. The central figure is Christ standing on the hell gates in the form of a cross. On either side of Christ, there are resurrected people. The number of figures in the icon can be different, but it always depicts Adam and Eve, John the Baptist, kings David and Solomon, and the High Priest Aaron.
Christ is depicted in the background of a blue sphere with the images of angels signed with the names of human virtues. Such an approach is quite non-standard; however, it allows to represent both divine radiance around Christ and the angelic hosts fighting the forces of evil at the bottom of the composition. The sphere is topped by a group of three angels with the Calvary cross.
The image of hell takes up a lot of space in this icon. Almost the third part of the whole composition is dedicated to it. We can see figures in white clothes awaiting redemption and the fight between angels and demons. Numerous demon figures, which are not involved in the battle scene, are signed with the names of human vices, being pierced with flaming arrows by angels from the upper part of the icon.
Dionysius's icon of Harrowing of Hell is a great image of the time, which has survived to this day. It combines restrained grandeur, festivity, and unique interpretations by the icon painter, which diversify the traditional iconography.