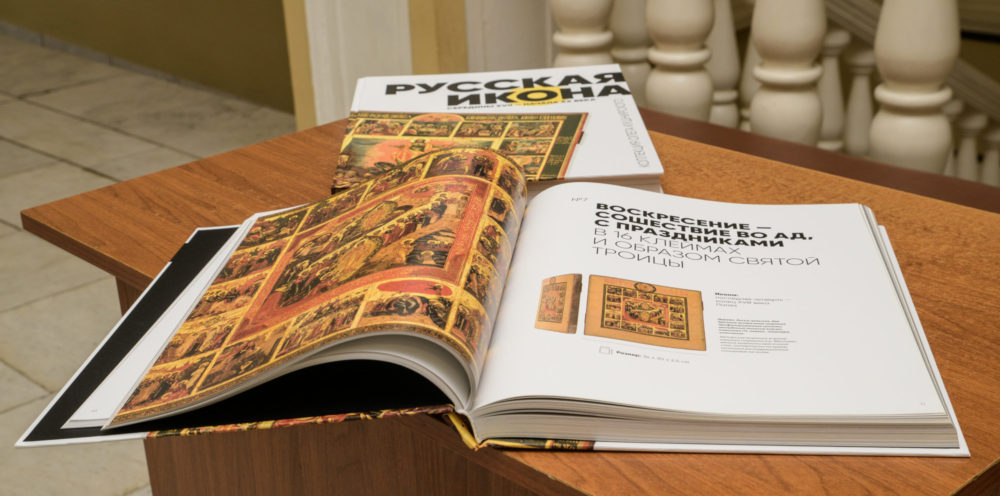 The Catalog of the Kushnirskiy Russian Icon Collection Presented in Veliky Novgorod
On October 25th, the Museum of Fine Arts in Veliky Novgorod hosted the presentation of the catalog "Russian Icons from the Mid-17th to the Early 20th Century. The Oleg Kushnirskiy Collection."
The Catalog of the Kushnirskiy Russian Icon Collection Presented in Veliky Novgorod
Held in the academic hall, the event saw the participation of art historians, collectors, journalists, and art aficionados. Isaac Freidman, advisor to the general director of the Novgorod Museum-Reserve, kicked off the event. He referred to it as a "double premiere" as he introduced the audience to the museum's new director, Sergei Brun, the evening's main host.
"It is significant that today's presentation takes place in Novgorod — a city without which there is no Russia, no Russian art," began Sergei Brun. "It is here that you can trace the living thousand-year history of Russian art, which is carefully preserved by the Novgorod Museum-Reserve. But it's also important to remember how many unique works we lose."
He emphasized that for many years, the iconography of the Modern Times, showcased in Oleg Kushnirskiy's collection, was overshadowed. Most professionals primarily appreciated ancient icons, particularly those from the pre-Mongol era. But collectors like Oleg Kushnirskiy are shifting this narrative, enabling scholars to reacquaint themselves with Russian art. He highlighted the "astonishing monuments crafted in the iconic hubs of the Russian Empire, such as Palekh, Mstera, Kholuy, and Old Believer centers." Many of these art pieces went overseas as souvenirs. Now, through the catalog detailing Kushnirskiy's collection, there's a renewed chance to view and analyze these icons."I would also like to specifically thank Isaac Borisovich Freidman for organizing this evening, for building bridges, for the interest that allows Novgorod to enrich the world, and the world to enrich Novgorod," said Sergei Brun.
Then, Ilya Kushnirskiy, director of the collection and son of its founder, took the floor. "For those who know us closely, Novgorod holds a special place in our family's heart. This is where my parents first crossed paths. As a child, my mother introduced me to this city. Being back here today, presenting my father's collection, is a great honor," he shared with the audience. "During our work on this book, I was fortunate to be surrounded by incredible individuals who guided me deeper into the realm of ancient culture and icons. In my youth, I perceived my father's dedication as something almost mystical, a portal to enchanted stories. As I grew, my perspective on the icons evolved, yet the awe and wonder never left, especially when I interact with these artistic masterpieces."
Expressing his gratitude, Ilya singled out Nikolay Zadorozhny, the director of Moscow's Museum of Russian Icons. Through Nikolay, he was introduced to key contributors like Anna Ivannikova, the author of the scientific descriptions, the collector Sergey Khodorkovsky, and many others.
Subsequently, Sergey Khodorkovsky, a close friend of Oleg Kushnirskiy, stepped up to the microphone. "Even for someone like me, the inception of this collection was unexpected," he confessed. "This collection is Oleg's vision realized; he curated it with profound intuition and expertise. Building a collection abroad poses challenges, unlike in Russia where there's no dearth of specialists to seek guidance from. In the West finding experts in Russian art is hard." Sergey also emphasized how Kushnirskiy's collection offers a richer perspective on later iconography.
After that, Sergei Brun introduced Anna Ivannikova — a specialist in Russian iconography from the 18th to the early 20th century, a certified expert and curator of the late Russian icon collection of the State Hermitage Museum. She authored the scientific descriptions of the catalog and one of the accompanying articles.
"I'd like to note the equal significance of the roles played by both father and son. While one brought together the collection, the other has been actively engaged in its promotion," remarked Anna. "Many collections remain unpublished and out of reach, even for specialists. The Kushnirskiy family's commitment to sharing their collection is commendable, meriting appreciation from researchers and anyone keen to explore the history of Russian religious art of the Imperial era."
She explained that what makes Kushnirskiy's collection stand out is, among other things, the insight it provides into the aesthetic preferences of a particular segment of society in the 17th – 19th centuries, primarily affluent townspeople and merchants. It was they who commissioned icons with various themes and celebrations represented in the collection. Often, these were family icons passed down from generation to generation as relics.
The evening continued with a video address from the author of one of the book's articles Alek D. Epstein, PhD, a Russian-Israeli cultural scholar who lives in Jerusalem.
"When Oleg Semyenovich was collecting this art, it was hard to imagine that planes would stop flying between Russia and America and that the two countries would essentially be in a state of war. Unfortunately, Israel is currently experiencing its own war, with a high number of casualties and captured victims. All of this once again demonstrates how vulnerable art is under such circumstances. Therefore, people who preserve and protect it for the present and the future deserve immense respect," said Alek D. Epstein.
He also spoke about the first collection Oleg Kushnirskiy gathered during the 1970s-80s on trips to the Russian North. Although he couldn't take it with him to America, where he emigrated in the early 1990s, the fact that Kushnirskiy found the "second wind" to assemble a new collection, especially abroad, was a remarkable achievement, the scholar remarked. He added that many collectors, having lost their treasures, would abandon the endeavor. Alek Epstein noted that collecting not only enriches the life of an individual but also brings people together, helping us understand one another even in the most challenging human and political situations. "We refuse to hate one another. Many thanks to Oleg Semyenovich and other art patrons who preserve culture despite all the confrontations and the divisive ethic that some try to impose on us," concluded Dr. Epstein.
Following that, the editor of Alek D. Epstein's books, Alexander Tar, gave the concluding remarks. He highlighted the exceptional quality of the photographs in the book, allowing for a detailed representation of the originals. "Such photographic quality would have been impossible if Oleg Semyenovich hadn't approached the restoration of icons in his collection so seriously," he noted, adding that what makes this catalog special is not just the detailed description of the icons themselves but also the story of the collector. "I hope that, after all its trials, the Kushnirskiy collection will eventually find its way back to Russia."