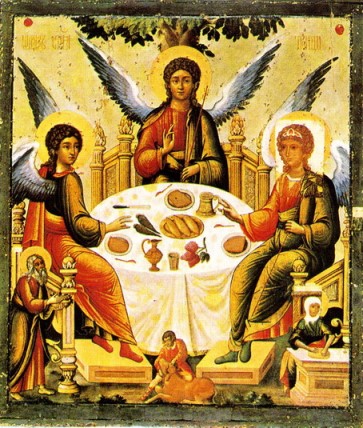 Symbolism in Religious Icon Art
What is an icon? Just look at the toolbar on your computer, and you will see lots of them – media player, Internet connection, volume control, and others. All of them are icons that represent different processes or programs and give you a quick link to particular objects. Religious icons are also a kind of symbols that represent a greater "object," but the "object" in this case means a person: Jesus Christ in human flesh, the Mother of God, or one of the saints. In this way, Eastern Orthodox Church icons are like quick links to holy persons. Besides, it is believed that when looking at a religious icon, you are in the presence of God. That is the reason why Russian icons are often called a window to heaven. What is more, it is a two-way window, as while you are looking into the heavenly world, you are also being seen by those in the icon. Thereby, Orthodox Christianity icons, especially when it comes to antique Russian icons, are not just beautiful paintings with a religious theme, they are a form of prayer that brings the viewer to the sacred.
The technique of Russian icon making is full of symbolism. For example, Eastern Orthodox Church icons are painted on only high-quality smoothed and shaped wood that symbolizes the Tree of Knowledge and the Tree of Life. It is intended to remind us of the life before Adam and Eve's fall. What's next? The wood is covered with a special linen cloth for protection. It is a reminder of the cloth, in which the dead body of Jesus Christ was wrapped. Even coats of gesso that are applied over the linen symbolize the life and soul of the person.
The central image of the Russian icon is usually painted on the recessed surface of the wood board that is called the "kovcheg" ark. It symbolizes the Ark of the Covenant, a box intended to store holy objects and to conceal them from the eyes of the uninitiated. Furthermore, many Russian religious icons are additionally gilded with gold leaf. The gold itself means heaven and divine light while the process of its applying symbolizes the Spirit and the breath of life.  In addition, an Orthodox icon is painted in many layers with a mixture of pure water, egg yolk, vinegar, and several natural pigments – each of them with its own symbolism.
There are actually lots of other symbols used in painting icons. This simply means that Russian Orthodox Church icons are much more than just pretty pictures. They do represent a visual form of prayer that tells us about God or the saints. As for the sacred art of painting religious icons, its secrets are usually passed on from one artist to the next. Moreover, no matter whether it comes to antique Russian icons or modern religious icons, each of them is aimed to help people open themselves to God's love.