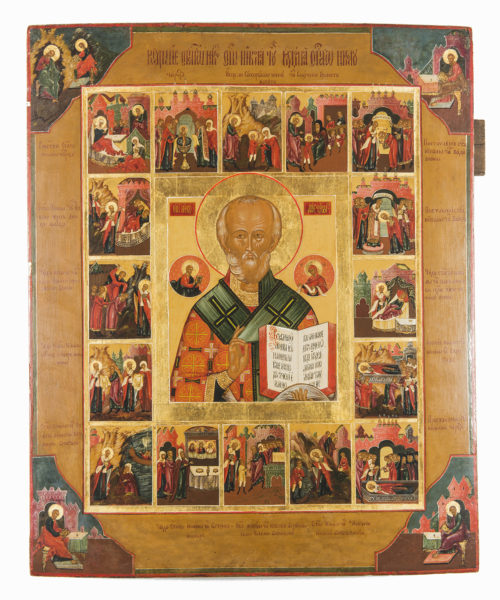 Saint Nicholas Icon, with 16 Hagiographical Border Scenes
The importance of Saint Nicholas for Christianity cannot be overestimated. The Bishop of Myra is venerated by various denominations and has long gained a distinct status beyond the Church. His figure is one of the most widespread and famous images depicted in the Russian Orthodox icons. The given Saint Nicholas icon is a good example of the iconography of Nicholas the Wonderworker. Let's get to know more about this particular piece of religious art.
Saint Nicholas icon, with 16 hagiographical border scenes
The featured icon dates back to the second half of the 19th century. It was painted at one of the iconographic centers of the Vladimir region. The condition of the piece is well-preserved, with only insignificant fallouts and chafing of gesso on the borders of a panel. The composition of the given Saint Nicholas icon consists of an image of the saint in the center and 16 hagiographical border scenes that surround it. By looking at those scenes, you can extract a lot of useful information about the life of the archbishop and his miracles.
One of the first miracles occurred during Nicholas' baptism. The baby is believed to have stood in the baptismal font for three hours. Later in his life, the boy aspired after the ascetic life and spent years studying the New Testament. Nicholas was promoted to priest by his uncle, the Bishop of Patar, who saw the young man's enthusiasm. Another important event dates back to 325 when he participated in the First Ecumenical Council that decried the heresy of the sect of Arius. After hitting the Cyrenaic presbyter Arius, the saint was thrown into jail and deprived of his episcopal status. However, many of the Council Fathers had a vision that night. They saw the Mother of God and Christ giving Nicholas the Gospel and the omophorion, two highly important symbols of the episcopacy. It led to the reinstatement of the episcopacy and the emergence of the so-called "Miracle of Nicaea." It is shown in the centerpiece of the given Saint Nicholas icon, with Jesus and Mary depicted half-length in medallions.
This Saint Nicholas icon belongs to the best-known and oldest iconography type – a half-figure portrait of the saint. The selection of the border scenes is traditional, with the majority of them dedicated to various miracles in the life of the saint. Bright and resonating colors and a monochromic approach to the depiction of faces are proof that the piece was created at one of the centers of the Vladimir region, possibly Palekh. This fact dispels any doubts that the icon belongs to the second quarter of the 19th century.