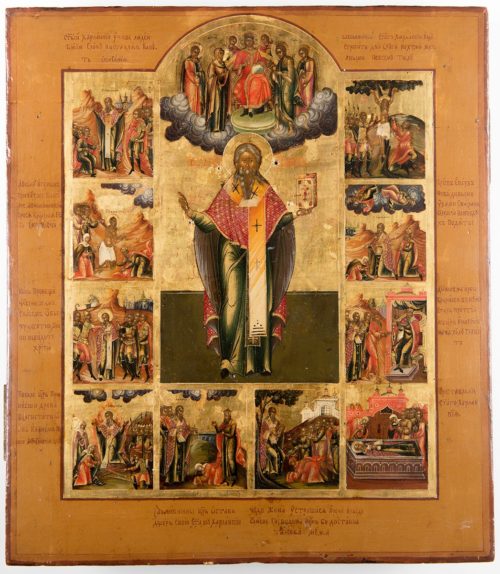 Russian Icons of the Martyr Charalambos of Magnesia
Religious icons of holy martyrs are highly revered in Christianity since they tell stories of saints who suffered terrible torments and yet retained their faith and love for the Lord within them. Today, February 23, Orthodox Christians commemorate the Martyr Charalambos of Magnesia, and in this blog post, we want to tell you about antique Russian icons depicting events from his life.
Saint Charalambos, the bishop of Magnesia and holy martyr
According to the Orthodox tradition, Saint Charalambos was the bishop of Magnesia, a city in Greece. Hardly anything is known about the saint's childhood and adolescence, but religious texts and Christian icons have preserved events of his martyrdom.
Saint Charalambos lived during the reign of the cruel Emperor Lucius Severus and openly preached the Christian faith and taught the people the commandments of God, for which he severely suffered. The governor Lucian and his soldiers subjected the saint to terrible torture, dragging him by a rope and tearing the skin off the martyr's body. However, during his torture, the saint began to pray and address his gratitude to the soldiers for the renewal of his spirit. Seeing the firmness of St. Charalambos' faith, the soldiers converted to Christianity themselves, for which they were also executed. According to the legend, Lucian tried to torture Charalambos himself but was unable to hurt the martyr. Moreover, for his cruel actions, his hands became diseased and his head turned backward. Suddenly, the governor began praying for mercy and was healed by Charalambos. Before his final execution, the Lord took the soul of the holy martyr to heaven.
Russian icons of Saint Charalambos and their specific features
Russian icons of Charalambos of Magnesia are quite rare and yet are familiar to most Christian believers. Traditionally, Saint Charalambos is depicted as a gray-haired old man dressed in the robes of a bishop. He holds the Gospel in his left hand, and his right hand is raised in a gesture of blessing.
Sometimes, Russian icons depict the martyr in prayer to God or with angelic figures who deliver the saint's soul to the Heavenly Realm. Apart from the angels, the icon may depict a cave, where the body of the deceased martyr lies, against the backdrop of a hilly landscape.
Russian icons of Saint Charalambos of Magnesia are believed to heal bodily and mental illnesses, as well as to protect the believer from sudden death.