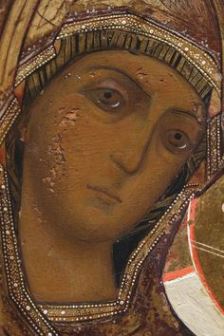 Russian Icon Art Advisory & Management Services
Working in the sphere of antique Russian icons for almost a quarter of the century, Russian Icon has guided lots of respected dealers and private collectors of holy icons on acquisitions of unique devotional art pieces of museum quality. Therefore, no wonder that in today's unpredictable Russian icon art market, people look to the expertise of our company for professional advice on how to confidently collect religious icons with long-term value.
Our extensive knowledge of the current Russian icon art market, with a focus on antique Russian icons of the 16th – 19th centuries, results in professional Advisory and Management Services based upon five main tenets: budget, image, taste, quality, and design. We maintain a database of the world's best existing antique icons of museum quality and, what is also very important, have access to some of the most unique private collections of religious icon art. Moreover, the RussinIcon president and world-known Russian icon expert, Oleg Kushnirskiy, is always a welcome guest at major antique icon exhibitions, auctions, and fairs throughout the US, Russia, and Europe. Thus, thanks to our reputation and recognized expertise, we are happy to offer a full range of professional Advisory and Management Services for Russian icon art dealers, collectors, and private clients. Our main task is to define and formulate top priorities in the current religious icon art market in order to professionally guide and assist our clients with the evaluation and purchase of antique icons. Furthermore, we serve as a liaison to private collectors, galleries, art dealers, and auction houses as well.
In this way, whether your goal is to purchase a single antique icon of museum quality or establish a whole collection of hand-painted Orthodox icons, we can provide you with assistance in the following areas:
Market analysis, researching, and monitoring;
Appraisal services, inventorying, and collection management;
Display, storage, and security recommendations;
Curatorial services;
Antique icon authentication;
Historical, provenance, and title research;
Administrative services;
Arrangement of the exhibition;
Acquisition and sales of all types of religious icons;
Fine art transportation and white glove delivery services;
Framing and reframing services to refresh a collection.
At Russian Icon, we make every effort to support our clients and guide them in the right direction, no matter whether they want to sell or purchase icons of museum-quality, refresh their collection, or order a professional assessment of their possessions. We provide the best quality services because we are also collectors of antique Russian icons and completely understand our clients and their needs. Just browse our website, and you will see for yourself! We have gathered lots of interesting information, useful tips, a full list of services, and a unique gallery of museum-quality Russian icons in one place for your convenience. Hope, you will enjoy being here!