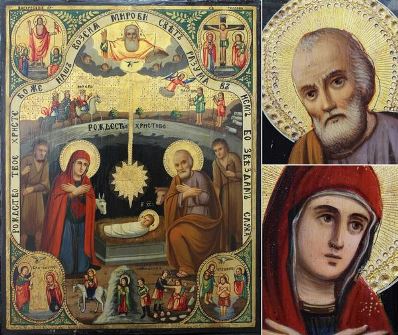 Religious Icon Appraisal Services
At Russian Icon, we offer professional appraisal services required for selling, acquiring, insuring, and donating antique icons. Being in this business for 25+ years, our team of experienced appraisers headed by Oleg Kushnirskiy – the founder of Russian Icon – has incredible knowledge on religious icon art and all skills needed for fast and high-quality work. Specializing in Russian icons of the 16th – 19th centuries, Oleg is a recognized leader in the antique icon consulting world. What's more, we have a strong network of Eastern Orthodox icon experts with specializations in various types and periods of religious icon art, as well as reliable partners all over the world, whose help can also be provided upon request.
Before talking about professional religious icon appraisal services, it is important to understand what the term "appraisal" means. An appraisal is a process of evaluation by qualified appraisers who give their opinion on estimating cost and value of a particular object. Furthermore, it also implies the calculation of the present worth of all future earnings and benefits. As a rule, such an expert opinion is delivered in a formal oral or written appraisal report. Thus, when it comes to religious icon appraisal services, the value is usually based on authenticity, historical significance, rarity, condition, purchase price, provenance, artist, school of painting, used materials, aesthetic beauty, and some other details about the evaluated antique icon.
Except for religious icon appraisal, we also offer a full range of related services, including:
Authentication and provenance research
The provenance of the antique icon and knowing of its historical significance greatly enhance its value and salability. Such items are highly sought after in the religious icon art market. To help you get more benefits, we cooperate with recognized experts and historians who can trace any icon's past ownership and confirm that it is authentic.
Representation in sales and purchase transactions
Whether you are a novice collector looking for unique Eastern Orthodox icons of museum quality for the private or corporate collection or an experienced one willing to enhance the already existing religious icon collection, we can help you achieve your goals. At Russian Icon, we can easily guide you and serve as a liaison to world-known auction houses, private collectors, galleries, and reliable antique icon dealers. Moreover, we can help you with installation, framing, and shipping of even the most valuable and unique religious icon paintings.
If you have a large collection of icons, then you definitely need professional management services. Our specially trained staff can describe an archive and create an inventory of any collection, with proper documentation and identification of each particular icon.
In this way, Russian Icon combines high professionalism, broad knowledge, and long-standing passion for hand-painted icons with a comprehensive understanding of religious icon art, current market, management requirements, and collecting trends as well. Dealing with us means to benefit from expert guidance in selling, acquiring, donating, collecting, and valuing antique icons!