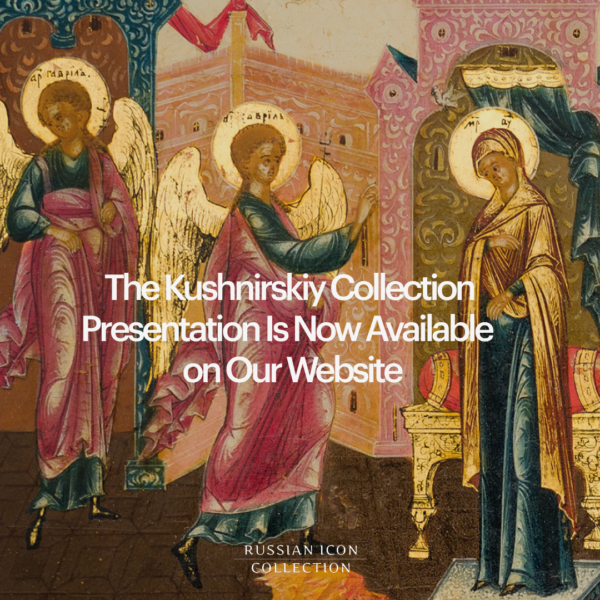 Presentation of the Oleg Kushnirskiy Icon Collection
Several months have passed since Russian Icon Collection released its catalog of the private collection of Oleg Kushnirskiy. Since then, we have achieved many important milestones, from the book receiving critical acclaim and its launch at the Museum of Russian Icons to its appearance in many educational institutions all over Russia. Today, we are happy to share with you the new presentation for our book titled "Russian Icons from the Mid-17th to the Early 20th Centuries: The Collection of Oleg Kushnirskiy." It compiles extensive information about the Russian Icon Collection project, including the history of the Oleg Kushnirskiy collection, the process behind the creation of the book, and much more.
The collection started out in the 1990s after Oleg Kushnirskiy immigrated to the US from the USSR. The catalog contains 46 pieces ranging from the 18th to the early 20th centuries. A significant part of the book is dedicated to small icons adorned in miniature stamps, with The Resurrection – The Harrowing of Hades with Church Feasts being the most represented iconographic type in the collection. Many of the featured pieces originate from the main icon painting centers located in the Vladimir region.
We are incredibly proud to share the book reviews we have received from respected experts in the field. Our presentation particularly features a report completed by Irina Shalina, one of the most prominent experts on the cultural values of the Russian Ministry of Culture. Besides, it will introduce you to the esteemed authors whose insightful articles are featured in the catalog: Anna Ivannikova, an expert of the Russian Ministry of Culture and curator of the latest icon painting collection at the State Hermitage Museum; Wendy Salmond, Ph.D., professor at Chapman University (California) and Chief Editor of the Journal of Icon Studies; Alek D. Epstein, Ph.D., Israeli sociologist, cultural scientist, and the Head of the Historical and Cultural Association "Discovery Routes."
The presentation also covers the collaborative work our project has done with Russian educational institutions, including the book demonstration at the Siberian Federal University and the addition of the catalog to over 50 museums and libraries across the country. Russian Icon Collection also expresses its gratitude to all the media outlets that showed interest in our project.
We have created the presentation with everything you need to know about the Oleg Kushnirskiy collection catalog. If you want to learn more or have collaboration suggestions, do not hesitate to contact Russian Icon Collection with your inquiries. You can view and download the interactive presentation by clicking on the link: Presentation of the Oleg Kushnirskiy Icon Collection