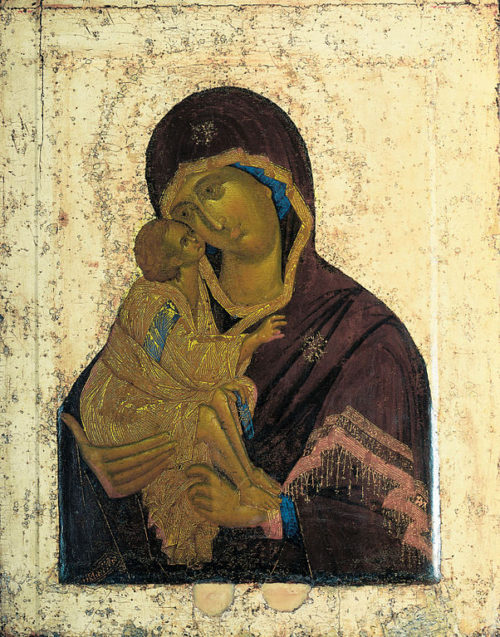 Our Lady of Tenderness Icon: Main Features
The Theotokos Orthodox iconography includes numerous revered and valuable icons. They are all filled with spirituality, love, and humility. For this reason, believers choose these icons to use for prayerful purposes both in the temple and at home. The icon of Our Lady of Tenderness, or Eleusa, gained wide popularity after the period of iconoclasm. It is an extremely delicate image that depicts the spiritual connection between the Mother of God and the Infant Christ. Read more about the icon features in our today's blog post.
Our Lady of Tenderness icon: main features
The "Tenderness" or "Eleusa" icon is one of the Orthodox iconographic types of the Theotokos. It includes the Vladimir icon of the Mother of God, Feodorovskaya icon, Our Lady of the Don, and Our Lady of Pochaev, among others.
Our Lady of Tenderness icon depicts the Virgin Mary with the Christ Child sitting on her arm. Jesus gently presses His cheek to the Mother of God's face. There are images depicting Our Lady at full height or seated on a throne. However, the most famous type of this iconography is the half-length image. Some critics claim that this type derives from another one, the Hodegetria.
The main message of this iconographic image is boundless love, both between the Theotokos and Christ and between God and mankind. The icon also symbolizes the sacrifice of Jesus Christ on the cross.
The most revered and widely known image that belongs to the "Eleusa" type is the Vladimir icon of the Mother of God. It was brought from Byzantium to Kyiv around 1130. The original icon was restored, but the figures of the Theotokos and the Child Christ have been preserved. Elements of their attire are also visible: a red omophorion of the Mother of God and a gold chiton of Jesus. The icon's reverse side depicts Hetoimasia (the prepared throne) and the instruments of Christ's Passion. Referring to this, Our Lady of the Tenderness carries a sorrowful connotation.
Another significant image of the Theotokos, which belongs to the "Eleusa" type, is Our Lady of the Don. It was painted by Theophanes the Greek. The special feature of this shrine is the naked feet of Jesus Christ.
Icons of the Theotokos have always been considered valuable shrines. They help the faithful get rid of negative thoughts and heal from ailments. Our Lady of Tenderness icon is filled with love and compassion, and it is an ideal choice for prayer purposes.