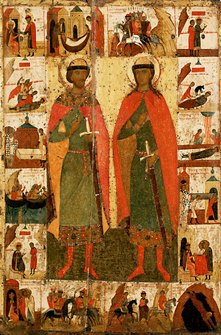 What Orthodox Icons to Use for Prayer? Part II
The Orthodox tradition of veneration of saints is very old; it has existed since the very beginning of the Christian Church. Let's just remember ancient Christian churches that were built over the graves of martyrs. Moreover, a famous early Christian author Tertullian wrote in the year 197, "The blood [of martyrs] is the seed of Christians," which means that it was the feat of martyrs that directly contributed to the spread of Christianity. It is one of the reasons why people use Orthodox icons of saints to focus their minds on prayer. However, don't think that Christian believers worship saints. They worship God, but venerate saints and ask them to help on their road to salvation.
We have already written about Eastern Orthodox icons of Jesus Christ and the Mother of God, which are often used for prayer. As for religious icons of saints, there are also many of them you can use for the same purpose. These include:
Icon of St. Prince-Martyr Boris – improves family well-being, protects from enemies, and gives healing to people struggling with musculoskeletal system and heart diseases.
Icon of the Holy Martyrs St. Sophia and her Daughters Faith, Hope, and Love – one of the most venerated Russian icons of saints, which unites the family, helps recover from devastating loss, and improves healthy family relationships.
Icon of the Holy Apostle Andrew the First-Called – helps people working in the marine career fields, as well as foreign language teachers and translators.
Icon of St. Anna the Prophetess – protects babies, gives long and healthy life, and helps cope with infertility.
Icon of St. Alexius the Man of God – protects men bearing the name 'Alexius' and helps them achieve prosperity in life. In addition, this icon also gives mental and physical healing to everyone in need and helps those suffering from alcohol and drug abuse.
Icon of the Holy Prince Alexander Nevsky – helps men bearing the name 'Alexander' keep good health and build a good career. Besides, Prince Alexander Nevsky is also the patron saint of the military.
Icon of the Hieromartyr Bishop Valentine – helps pharmacists get succeed in their career, gives healing, and prevents chronic diseases.
Icon of the Holy Monkmartyr Vadim the Archimandrite of Persia – protects against treachery and deceit, gives spiritual strength, and helps men bearing the name 'Vadim' achieve success.
Thus, Orthodox icons of saints not only show people the way to God but also help them in everyday life. No wonder, they are so much venerated by Christian believers all over the world.