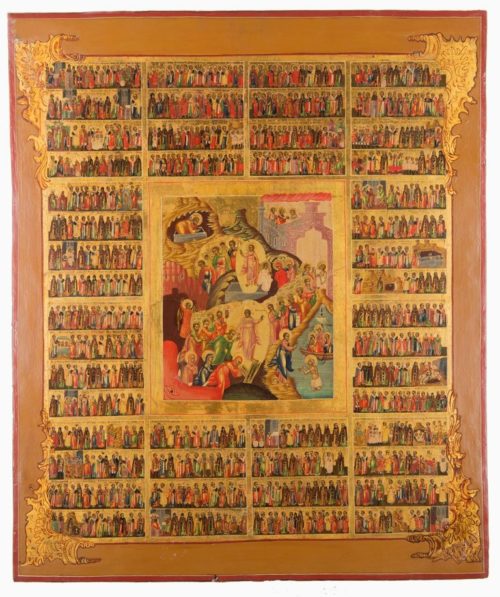 Orthodox Icon of the Resurrection, with the Yearly Menaion
The Menaion icons were not only the compilation of various scenes, saints, and narratives on a single panel, but they also served as a calendar that common folk used to remind themselves of the patron saint for every day of the month. It is one of many reasons making the iconographic and hagiographic Menaion tradition so valuable and integral for Eastern Orthodox Christianity in the annals of history. At Russian Icon Collection, we are happy to have antique works of that type in our exclusive collection. Today, let's take a moment to appreciate the Orthodox icon of the Resurrection featuring the yearly Menaion.
Orthodox icon of the Resurrection, with the yearly Menaion
The given Orthodox icon of the Resurrection – the Harrowing of Hades has a complex composition. To start with, the centerpiece of the work is traditionally dedicated to two scenes: the Rising from the Tomb and the Harrowing of Hades. They are located along a single axis and connected by diagonal processions. As for the additional scenes, the icon painter brought their number to the minimum and included Jesus' revelation on the Sea of Galilee and St. Peter at the empty tomb.
This Orthodox icon of the Resurrection wouldn't be so unique without the yearly Menaion border scenes. Lined up in chronological order from left to right, they follow the Church calendar, which, unlike the secular one, begins with September. Images of such type were mostly inspired by Gregorii Tepchegorskii's etchings made in the 18th century. Upon closer look, you can notice how each scene splits into four tires, each featuring feasts and saints who are an essential part of the main events of the liturgical year. Also, pay close attention to the frame between the centerpiece and border scenes. It is decorated with golden Rococo cartouches.
The fact that the Orthodox icon of the Resurrection is small in size and features an overcrowded composition indicates that it was used as a form of a home calendar for private prayer. This masterpiece has close analogies among other antique religious paintings, especially when it comes to icon painting schools of the Vladimir region. Considering the peculiarities of miniature composition and the fact that it was created in the second half of the 19th century (1870s-1880s), this Resurrection icon was very likely to be made in one of the workshops in Palekh. Enamel-like quality of the paint and resonating colors make the antique artwork a priceless historic treasure and an indispensable part of our collection.