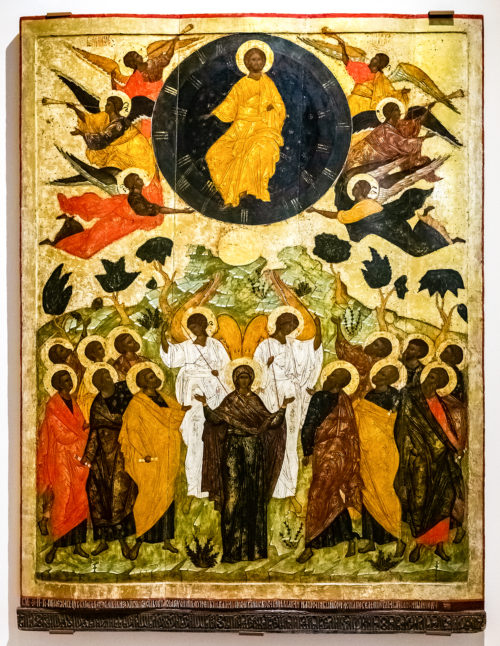 Iconography and History of the Ascension Icon
The Ascension icon is one of the most solemn images in Christian culture. Its iconography is based on the texts of the Gospel of Luke, the Gospel of Mark, and the New Testament. After the miracle of Resurrection, Christ preached for forty days to the apostles and then led them to the Mount of Olives, where they witnessed His Ascension. Texts had no mention of the Virgin Mary, but in the iconography tradition, she became one of the main figures of the Ascension.
Ascension icon: formation of iconography
Before forming its own iconography, the image of the Ascension was closely intertwined with another important biblical story, namely the Resurrection of Jesus Christ. These two events are combined in one composition in the relief of Bamberg's ivory icon dating to the early 5th century. This early image of the Ascension has some differences from a traditional one and includes the Myrrh-bearing women and Roman guards. However, already in later images of the same period, the Ascension iconography acquired independence and became recognizable.
The Ascension icon on the carved doors of the Roman Basilica of Saint Sabina is an early example of iconography where Christ is presented on the top of the composition, with His two disciples holding a cross over the head of the Mother of God standing between them in the bottom part. It is one of the most laconic compositions of the Ascension. Later images would include much more figures in their composition.
Traditional iconography of the Ascension
Traditional iconography of the Ascension was established after the iconoclastic period in the middle of the 9th century. Sometimes, additional plots were included in the main composition. These, for example, include the scene of "Blessing of the Apostles" like in the 17th-century icon by the Stroganov master Michail from the Annunciation cathedral in Solvychegodsk.
The composition of the Ascension icon is conditionally divided into the top and bottom parts. Christ surrounded by angels is depicted in the top part. The Theotokos, apostles, and other angels are shown in the bottom part.
The Virgin Mary in this iconography is rather a symbol than a specific person. She embodies the image of humanity and the Church. She is real proof of the Birth of Christ and His Ascension.
Among the apostles depicted in the icon are the Apostles Peter and Paul, shown with their traditional attributes. The image of the Apostle Paul in the icon of the Ascension is some deviation from the chronology because, at the time of this event, he had not yet believed in Christ.
The Ascension icon is indeed an excellent example of a multi-figure composition that combines the narrative, symbolism, and the idea of the triumph of eternal life over death.