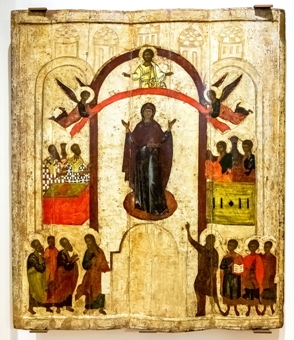 How to Sell Russian Icons Safely?
Antique Russian icons enjoy high demand among avid collectors and dedicated believers. However, selling icons safely and at reasonable prices is a challenge. In fact, all you need is to find a reliable buyer who appreciates the importance and value of sacred relics and can perform appraisal work in order to set the right price for an icon. But amongst the many existing services, it is hard to find the right one. We are, therefore, pleased to offer you the services of the online gallery Russian Icon, where you have a chance to sell Russian icons without being stressed and concerned about the safety of proper appraisal of your relic.
Why choose Russian Icon?
At Russian Icon, we know how to handle the process of selling such a holy object as an icon from start to finish. Our team of experts has been operating in the area for over two decades, so you can rest assured of our professionalism and in-depth knowledge of the matter. While it is pretty tricky to get in touch with a potential customer at times, at Russian Icon, you can be easily provided with a detailed estimation of your religious art. To sell Russian icons becomes much easier with our professional team, as we know everything concerning antique religious art and its evaluation.
How exactly can you sell Russian icons to Russian Icon?
If you have decided to collaborate with us, feel free to contact our team immediately! Before putting a price, we take into consideration a bunch of features, including the age of the icon, dimensions, artistic style, rarity, and its condition. Be sure that you will get a completely substantiated report since honesty and extensive experience are a credo of our team.
We can offer you the best price for an original hand-painted Russian icon, taking into account its market value in the case of retail and wholesale deals. For reference, we should emphasize that the older the icon, the higher its value. So if you have original Russian icons dated to the 16th-19th century or even earlier, you should turn to Russian Icon right now. We will be happy to enrich our notable collection with another sacred artifact!
Do not hesitate to contact Russian Icon to sell Russian icons safely and get exceptional advice from our experts!