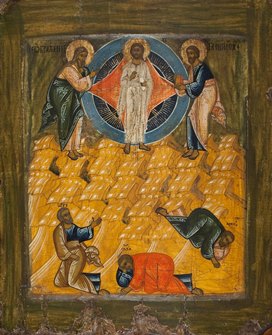 How to Clean Orthodox Icons at Home?
Whether it comes to antique Russian icons, Greek Orthodox icons, Byzantine religious icons, Coptic icons, or any other Orthodox Christian icons – they all are the same on a practical and theological level. Even though they may be different from one another, each of them is still a representation of particular concepts and ideas that are unique to Christianity. Moreover, hand-painted Orthodox icons are not only sacred images venerated by Christian believers but also amazing pieces of religious icon art. That is exactly why so many people from around the world, including those who are not Christians or even religious, collect Orthodox icons and artifacts.
If you are a lucky owner of an old Russian icon or any other religious icon, then most likely you want to know how to preserve it for future generations. Start with its cleaning! Here is a simple guide on how to do it at home:
Dust the icon. Use a feather duster or a wide squirrel hair brush to gently remove the layer of the largest dust particles.
Remove the smallest dust particles. Use a clean microfiber cloth to remove final traces of dust. Avoid using bleached and dyed fabrics, or you can damage the painted layer.
Clean your religious icon. Use another clean microfiber cloth slightly moistened with dilute alcohol to remove the grime and soot. In Russia, people traditionally use vodka for this purpose. So if you have it, do not hesitate to wipe your religious icon with a thin layer of Russian vodka. Please note that if the dirt doesn't disappear immediately, then dilute alcohol doesn't work. In such a case, stop any further attempts to clean the icon yourself and consult a professional restorer. Otherwise, you can damage the finish.
Polish the icon. If you succeed with cleaning your Orthodox icon, now it's time to go further and polish it with linseed oil. However, do not overdo it! A thin layer of linseed oil is enough. After the work is done, allow the hand-painted icon to dry naturally (approximately 3 days).
Cross yourself. Even if you are not religious, cross yourself. After all, Orthodox Christian icons are considered sacred images that serve as "windows into heaven."
Please take into account that the written above method of cleaning religious icons cannot be applied to valuable, severely damaged, or rare antique icons of museum quality that require professional restoration services. In such a case, we recommend that you contact Russian Icon for help. Our talented restorers with extensive experience have proven themselves repeatedly by completing a huge number of restoration projects. We can deal with even the most unique pieces of religious icon art. Just let us know about your problem, and we will do our best to help you solve it!