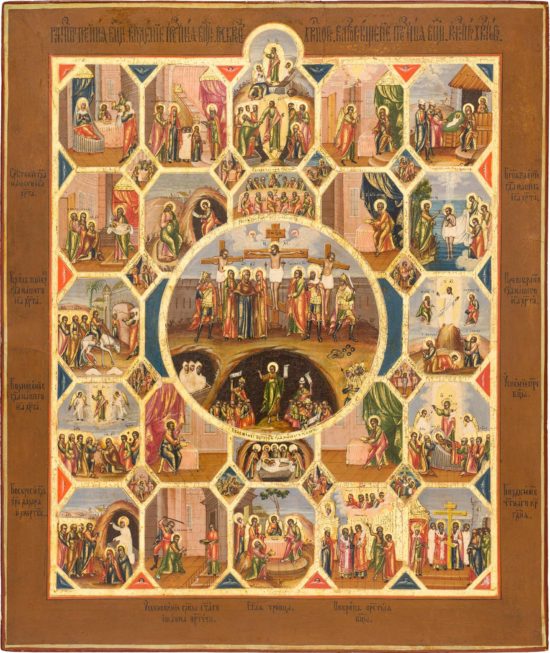 Hand-Painted Eastern Orthodox Icon of the Crucifixion
The given hand-painted Eastern Orthodox icon depicts the Crucifixion surrounded by the scenes of the Great Feasts and the Passion of Christ. This type of iconography can be dated to the end of the 19th century. What makes this icon quite a unique one is the placement of the Crucifixion scene in the center of the composition because most icons of the period feature the scene of the Resurrection — the Harrowing of Hades as the centerpiece.
Hand-painted Eastern Orthodox icon of the Crucifixion
According to icon experts, this Eastern Orthodox icon can be attributed to the Palekh icon painting school, an iconographical movement founded in the 17th century. This is supported by the composition of the icon. With its round centerpiece and diamond-shaped and triangular border scenes, it stands out among other iconographical images of the time.
The biblical stories depicted in the icon are very detailed. The centerpiece includes several figures. Apart from the Savior and the two thieves who were crucified at the same time as Christ, there are also the Myrrh-bearing women and the Mother of God. The Holy Martyr Longinus the Centurion and the Roman warriors are positioned on both sides of the cross. The bottom part of the centerpiece depicts the scene of John the Baptist preaching the coming of Christ in Hell, urging the tortured souls to repent in order to be saved.
The central axis of the icon recounts the story of Christ's earthly life up to His death on the cross, which is followed by the glorified Resurrection and the Harrowing of Hades. The Last Supper is placed directly under the latter scene, symbolically referencing Jesus already anticipating it. The centerpiece is canonically framed by the images of the Four Evangelists.
The Passion cycle featured in this Eastern Orthodox icon takes up the diamond-shaped border scenes, between the Great Feasts and the Crucifixion. The significance of the themes of the Resurrection and the Passion is highlighted by their size compared to the other twelve border scenes.
The Feasts of the Church unfold in the exterior rows of the border scenes. This cycle starts with the Nativity of the Mother of God and ends with the Elevation of the Holy Cross.
It is evident that this Eastern Orthodox icon is well-preserved. Traditionally, icons depicting the major Orthodox feasts were cherished and treated with utmost care. Such iconographic images were also often used as 'agrarian calendars' because the Feasts were seen as indications of the change of seasons and the main events in the agricultural life of people.