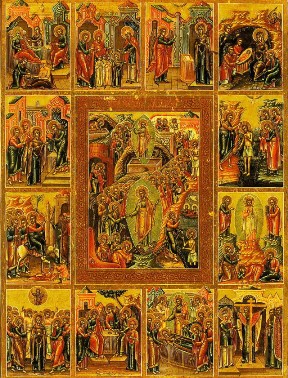 Festal Religious Icons
The Great Feasts of the Eastern Orthodox Church mark the key events leading up to the Resurrection of Jesus Christ and after it. They are the main celebrations of the year, with the Feast of Feasts at the center, known as Easter or Paskha. Each of them is associated with some of the most famous religious icons depicting the particular event in the life of Our Lord or the Orthodox Church's history. Therefore, festal religious icons, especially those related to the Resurrection of Jesus Christ, play an important role in the Eastern Orthodox iconography and lives of Christian believers. Here are several of the most significant Church icons used to celebrate the Great Feasts and Easter/Paskha: 
Religious Icons of the Entry into Jerusalem
Christ's triumphal entry into Jerusalem on the donkey's back is one of the key events remembered since antiquity. It is celebrated on Palm Sunday (the Sunday before Easter) that marks the beginning of Holy Week and the end of Lent. Famous religious icons depicting the Entry into Jerusalem are a symbol of Holy Wisdom and an embodiment of Jesus Christ's identity and invisible glory as well.
Icons of Jesus Christ's Resurrection
The celebration of Jesus Christ's Resurrection from the dead is at the center of the Christian faith. This Holy day, the Feast of Feasts, is known all over the world as Easter or Paskha. In this way, the religious icon of the Resurrection has always been the most instructive, the most cherished, the most common, and, certainly, the most celebrated. Moreover, this Christian icon not just depicts the empty tomb or Risen Christ – it rather shows us the complete Victory of our Lord; hence another name of this religious icon – the icon of Victory.
Holy icons of the Christ's Ascension
The Feast of the Ascension is celebrated forty days after Easter/Paskha and Jesus Christ's resurrection respectively. Famous religious icons for this important feast show the major events from the Book of Acts and, particularly, the moment when Jesus Christ was taken up into the Heavens before the disciples.
Religious Icons of the Descent of the Holy Spirit
Fifty days after Easter/Paskha, Christian believers celebrate Whitsunday or Pentecost, so that religious icons, used for this feast, are also called the Pentecost icons. They underline the significant event from the Book of Acts depicting the descent of the Holy Spirit upon the Apostles. Nevertheless, these Holy icons not only commemorate this important historical event but also show the presence of the Holy Spirit in the present reality.
These are only 4 of 13 Eastern Orthodox Church icons used to celebrate the Great Feasts and Easter/Paskha. Each of them is of considerable importance for both, Christian believers and religious icon collectors, so that if you want your collection to be complete, don't forget to add these amazing hand-painted icons to it!