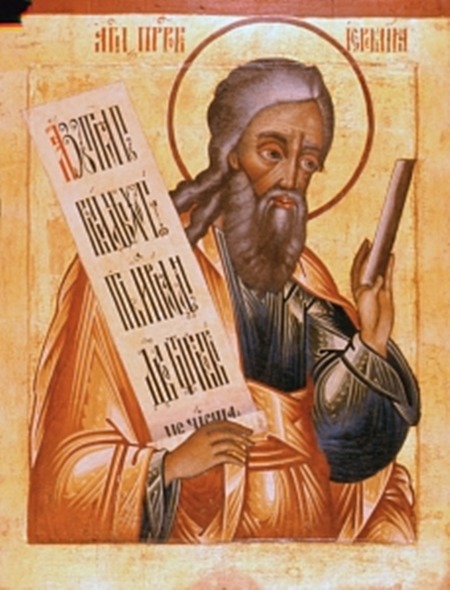 Eastern Orthodox Church Icons of Saint Jeremiah the Prophet
The Holy Prophet Jeremiah is considered a forerunner of Christ, possessing the gift of foretelling future events. For example, the saint described the division of Holy Scripture into two books: the Old Testament and the New Testament. The Prophet Jeremiah is among the four major prophets revered by both Orthodox and Catholic Churches. The Hebrew name "Jeremiah" means "appointed by God." Eastern Orthodox Church icons of the prophet are highly valued in Russia and abroad.
The Prophet Jeremiah and his predictions
The Prophet Jeremiah was born around 650 BC to a priestly family. His prophetic gift was revealed to him quite unexpectedly at a young age. Jeremiah was only 15 years old when the Lord appeared to him and promised His protection and aid. Thus, Jeremiah entered a challenging time. He would soon be called the "weeping prophet" because of the tragic predictions he proclaimed to the people.
His omens indicated that Jerusalem would fall because of the discouragement of the inhabitants who refused to worship God. The central idea of the predictions was the subjection of the new state of Babylonia, which was rapidly growing and developing. The saint suggested that the rulers and nobles abandon Egypt to avoid inflicting terrible punishments on Judah. But his love for the Jerusalem people did not resonate with his fellow citizens; he was considered an outcast and a traitor to the end of his life. Jeremiah spent his time praying to God and weeping over the bloody fate of the city.
Eastern Orthodox Church icons of the Prophet Jeremiah
Eastern Orthodox Church icons of St. Jeremiah depict him as a middle-aged man with dark hair, a short beard, and correct facial features. His right palm is folded in a gesture of blessing, and his left hand holds a scroll. In the scrolls are the words of the Prophet Baruch who was a writer and friend of Jeremiah. Baruch was in charge of recording the prophet's forebodings while he was in prison.
Some icons depict Jeremiah as an old man with white wavy hair and a long beard. His figure can also be seen in group icons, together with other prophets and saints.
All the prophecies of Saint Jeremiah were recorded in the Book of the Prophet Jeremiah and the Lamentations of Jeremiah, which are part of the Bible. Eastern Orthodox Church icons of the saint are venerated and displayed in many Orthodox temples around the world.