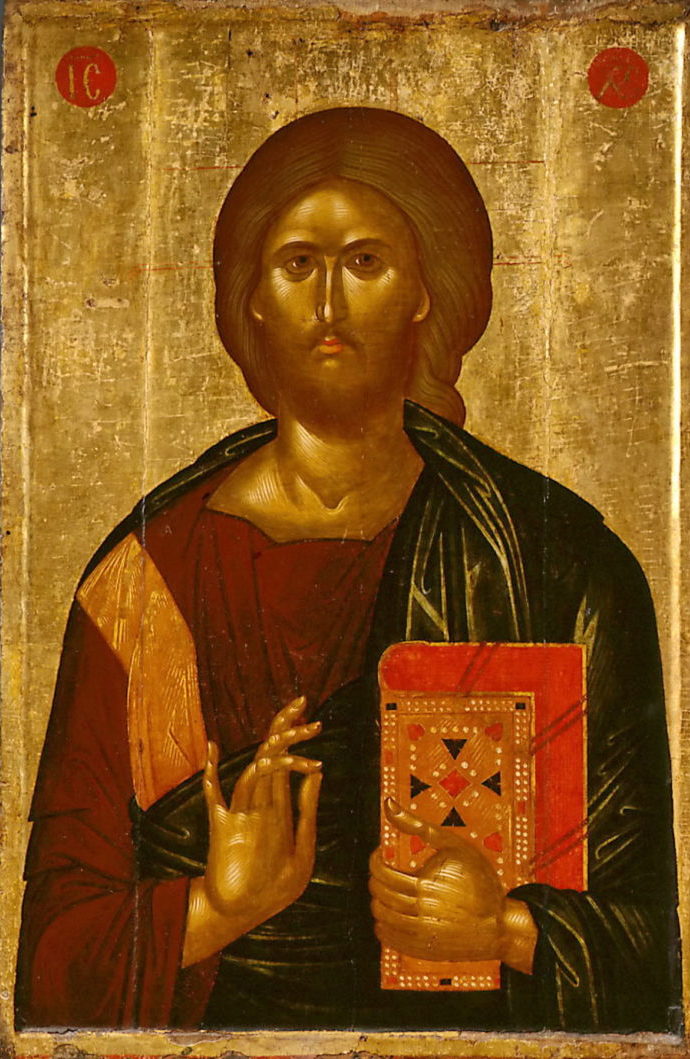 Christ Pantocrator Icon from the Pushkin State Museum of Fine Arts
The featured Christ Pantocrator icon was created by a Byzantine master in the second quarter of the 15th century. Such images of Christ are exceedingly popular in the Orthodox world. Some icons of the Pantocrator (literally meaning "all-powerful") are believed to be miraculous. They are revered by believers for their ability to heal, purge sinful thoughts, and protect from harm. Images of the Savior holding the New Testament in one hand and making the gesture of blessing with His other hand are some of the most widespread among Eastern Christians. A thematically similar image known as Christ in Majesty exists in the West as well, but its iconography is drastically different from its Orthodox equivalent.
Christ Pantocrator icon from the Pushkin State Museum of Fine Arts
The given Christ Pantocrator icon belongs to the collection of the Pushkin State Museum of Fine Arts in Moscow, Russia. It is a rather large piece, standing at around four feet tall, which suggests that it might have occupied the iconostasis in one of the Constantinople cathedrals. The Savior is depicted wearing dark purple and green vestments, the color pallet of the image is overall calm and muted. Christ is depicted against a traditional golden background. The letters in the two red circles placed in the top corners of the icon are acronyms of the Greek spelling of Jesus Christ, a classic feature of religious images of this type.
One of the most outstanding features of this religious image is its intricate details: the white strokes on the face, hands, and clothes of Christ unexpectedly add dimension to this Medieval work of art. Certain characteristics of the piece, including the overall painting style, attention to detail, and color harmony, give us reasons to believe that it was painted by Angelus, a Byzantine icon painter working in Crete, Greece, since the 1430s.
As mentioned earlier, Christ Pantocrator is quite a popular iconographic type known for centuries. The most famous Christ Pantocrator icon can be found in St. Catherine's Monastery in South Sinai, Egypt. It is also one of the oldest existing pre-iconoclastic Byzantine icons, dating back to the 6th century. In this icon, Christ is shown in a much more naturalistic way as compared to the featured 15th-century Byzantine icon. The Sinai icon is also interesting because of the unique way it depicts the Savior. It is largely believed that the two sides of His face are supposed to represent the dual nature of Christ, as He is both human and divine.