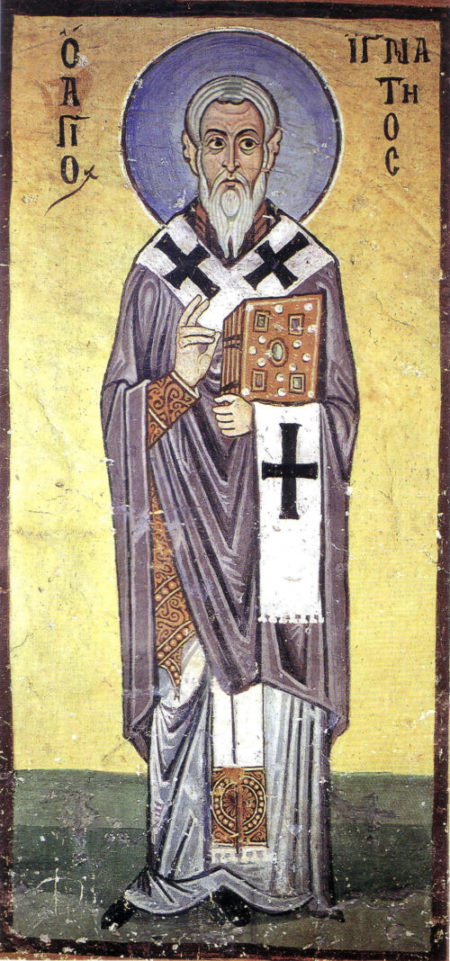 Byzantine Icon of Saint Ignatius of Antioch
Religious icons educate us about the most significant figures involved in the development and spread of the Christian religion as a phenomenon. We learn about the lives of the prophets, martyrs, theologians, and, of course, about the deeds of Jesus Christ and the biblical events associated with Him. For example, the old Byzantine icon of Ignatius of Antioch tells us the story of one important figure who carried Christ in his heart. Read more about the Saint and his icon in our new blog post.
Ignatius of Antioch: life and deeds
Little is known about the life of Saint Ignatius of Antioch. He was born in Antioch, the capital of Syria. Ignatius called himself the God-Bearer because of the story telling that he was held in the arms of Christ as an infant. The Saint spent the entire life carrying his faith and infinite love for Jesus. Ignatius went with the name of the Savior on his lips even to his execution.
Saint Ignatius was a disciple of John the Evangelist and the second bishop of Antioch. Like the majority of saints who preached the word of God, Ignatius received a cruel punishment from the emperor – a death sentence. On the way to his execution, which was to take place in Rome, Saint Ignatius wrote seven epistles on the structure of the Christian Church and the role of all clergy in the religious hierarchy. The epistles relating to the Orthodox Church have been preserved to this day.
Due to the efforts of the faithful, the relics of Saint Ignatius were transferred to Antioch.
Byzantine icon of Saint Ignatius of Antioch
The old Byzantine icon of Saint Ignatius (pictured above) depicts him as a white-haired elder with a pointed beard, dressed as a priest. In his one hand, Saint Ignatius holds the Sacred Scripture, while his other hand is raised in a gesture of blessing. Such a full-length image of the Saint is often found in Orthodox Christian art.
Besides the traditional image of the saint like in the mentioned above Byzantine icon, there are also Orthodox icons of Ignatius of Antioch featuring the events of his life and death. In particular, such icons show the moment of the Saint's execution, with lions tormenting the body of the saint who raises his hands as a sign of approaching eternal life in the kingdom of Christ.
Saint Ignatius of Antioch is an incredibly important figure for the entire Christian world. Many believers pray in front of his icons to cultivate faith and love for Christ in their hearts in the same way that Saint Ignatius did.