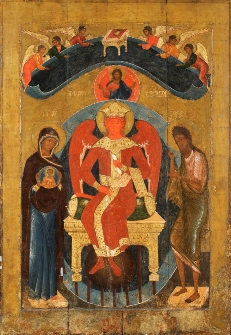 Buying Eastern Orthodox Icons from Russian Icon
For 25+ years, we have been involved in selling, buying, appraising, and restoring Eastern Orthodox icons and artifacts thanks to Oleg Kushnirskiy, an owner and founder of Russian Icon. Being a renowned appraiser and expert on antique Russian icons, he is a true professional with years of expertise in this field, whose specialty goes from the 16th to the 19th-century hand-painted icons. In this way, whether you want to sell or buy icons online, you have come to the right place, as we are always happy to purchase icons of museum quality, as well as help novice collectors expand their own collection. Moreover, here you can order restoration, advisory, management, appraisal, and other services related to antique and modern religious icons. If you have any questions, please do not hesitate to call us immediately on +1 917 658-5075.
We offer Eastern Orthodox icons on a variety of themes!
At Russian Icon, we offer a wide selection of rare antique icons for sale. Most of them are hand-painted Russian icons of museum quality, which makes our collection stand out from the crowd. Here you can find unique icons of Jesus Christ and the Mother of God, icons of saints and angels, festal religious icons, and many other icons on a variety of themes and topics. All of them are presented in our online gallery so that everyone could admire these amazing pieces of religious icon art. However, in case you cannot find a particular icon on this website, just let us know about that! Russian Icon has a strong network of partners, collectors, and experts on Eastern Orthodox icons throughout the world, which means that if the icon you are looking for does exist – we are sure to find it for you! Moreover, as an antique icon collector or buyer, you are always welcome to visit our office in New York to examine and purchase icons that we offer online. Besides, Russian Icon also offers a number of books on Christian art, divine services, Eastern Orthodox iconography, history of religion, miracles, God's signs, as well as different lectures, talks, discussions, and teachings. Any of them can be ordered online right through this website.
Professional restoration services
If you need to restore the beauty of your antique icon to add it to your private collection or for its further selling, we are ready to help. Our professional team of highly-qualified restorers has an extensive experience in terms of icon restoring and has proven itself repeatedly by completing a significant number of different projects. In this way, whether you need to restore an antique icon or simply want to remove the dirt from it, we can help you with ease. Contact us now for more information on this or any other service we provide. We are always at your disposal!