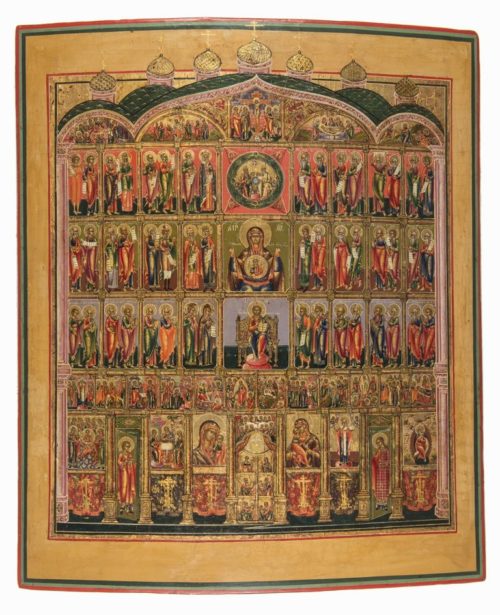 Antique Sacred icon of the Iconostasis, or "The Church"
The featured piece of religious art occupies an important place in our Russian icon collection because it belongs to a new distinct type of Eastern Christianity iconography. Its secret lies in those many tiers that imitate the actual Russian iconostasis. According to art historians, the emergence of such iconographic style can be linked to the disenchantment of Russian society with Western European art, which happened after the French invasion of Russia in 1812. Since the cultural split, artists embarked on the path in search of a new, national style. As a result, they managed to rediscover the ancient ecclesiastical tradition. That's how the given sacred icon of the Iconostasis came into existence.
The icon of the Iconostasis, or the Image of the One, Holy, Catholic, and Apostolic Church
The notion of iconostasis plays a central and quite symbolic role in Russian Orthodox spirituality. Its importance is so great that it remains the symbol of national religious culture even today. The sacred icon of the Iconostasis is a product of the old icon painting tradition of creating pieces meant to replicate the wall of icons of the Moscow Kremlin's Dormition Cathedral, which was reconstructed by the Patriarch Nikon in the 17th century.
The given icon of the Iconostasis is the type of holy painting, which was frequently commissioned by the Popovtsy, one of the two most populous factions of so-called Old Believers, also known as Old Ritualists. They used the pieces for various purposes, including but not limited to home prayer and different Church mysteries. At the same time, the Bezpopovtsy, which is the opposing faction of the Popovtsy, didn't approve of the uncanonical depiction of God the Father, which is symbolized by the inclusion of the New Testament Trinity in one of the tiers.
Upon closer look, you can distinctly see the six tiers, each representing different scenes and holy figures. Before you start analyzing the rows, you should bear in mind that, unlike other religious icons, the given icon of the Iconostasis doesn't show Church Feasts in chronological order. Such can be found in the second tier. You might also be interested in the top tier, which is called the Passions and contains the scene of the Crucifixion in the center.
Such a complex and many-layered composition of the work, as well as resonating paintwork and artistry, makes the featured icon highly valuable. The piece is also richly ornamented, with acanthus leaves and picturesque bouquets filling the space of the image. Similar to some of our icons of the Resurrection, this one stylistically leans toward the Baroque style. It was likely painted in Vetka, one of the primary centers of the Popovtsy faction.