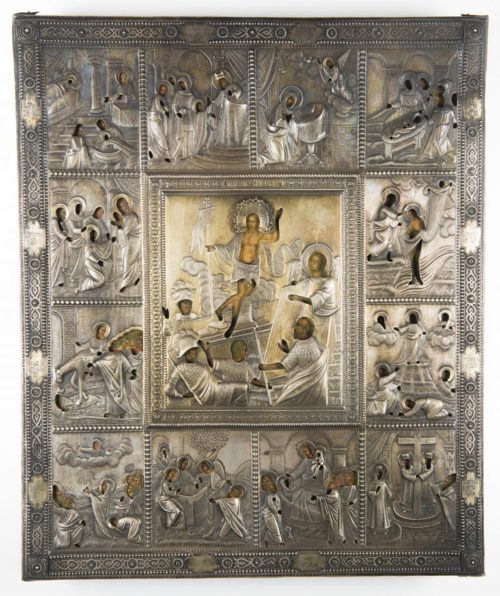 Antique Icon of the Resurrection, with Twelve Feasts
Throughout its long history, Orthodox iconography has been influenced by a variety of factors. Western European art was one such force that changed the way icons were designed and produced. The given antique icon of the Resurrection is a good example of its influence. The icon's iconographic scheme and composition attest to the master's orientation on etchings and samples that were adopted and popularized in the West. It dates back to the last quarter – the end of the 18th century, with the panel painted by the iconographer of the Vologda region and the oklad cover made in St. Petersburg. Let's take a deeper look at the compositional peculiarities of the icon.
The composition of the antique icon of the Resurrection
Thin and dark borders, emotional poses, and the color scheme, which is based on the juxtaposition of various tones of red and blue, indicate that the icon belongs to the late Baroque style of Eastern Orthodox iconography. Upon closer look, you can notice features that tell us that the antique icon of the Resurrection was made in the Russian province. These are clumsy poses, simple color work, and a draft-like manner of painting. Such characteristics and icon painting traditions were intrinsic to the craftspeople of the Russian North, where the Baroque traditions found their way to blend with the local folk culture.
The featured antique icon of the Resurrection of Christ depicts the half-naked Savior with a banner in His hands and His legs crossed. He is surrounded by the warriors who guard the place and the angel who holds the lid of Jesus' tomb. The whole scene has a rather triumphant mood, which is a mark of the Imperial era. In fact, such type of composition replaced the traditional Resurrection iconography – The Harrowing of Hades.
The silver oklad cover deserves special mention. It was made much later than the panel – in the last quarter of the 19th century. Made in Neo-Russian style, the oklad presents highly aesthetic ornamentation, which is a reflection of the folklore tradition and connected to the rediscovery of Russian wooden architecture. Now, take a closer look at the frame of the cover. It depicts streams of geometric patterns similar to those you can see during the wood carving process. Thanks to the high quality of fetching, the ornament is distinctly visible. Overall, this silver oklad is a work of premium-quality craftsmanship and was probably made by one of the best silversmiths in St. Petersburg. That's why it is an indispensable part of the given antique icon of the Resurrection, which would be hard to imagine without the cover.