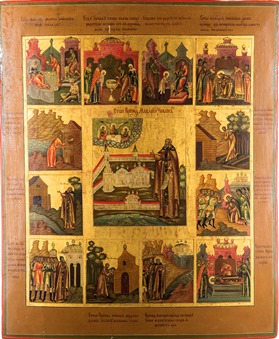 Antique Icon Appraisal Services
Religious icons and artifacts are almost impossible to appraise without proper experience and understanding of their value. However, it is not a problem if you deal with a reliable company specializing in evaluation, exhibiting, selling, and buying religious art. The good news is that if you are reading this, you have found one as we offer professional and comprehensive antique icon appraisal services for all those wishing to assess a fair market value for their precious possessions.
At Russian Icon, we have been providing specialist antique icon appraisal and valuation services for 25+ years, with a focus on Russian icons painted in the 16th – 19th centuries. However, it does not mean that if you have a rare piece of modern religious icons or a whole collection of Greek Orthodox icons, we cannot help you find out its current market value. The fact is that thanks to our founder Oleg Kushnirskiy, who has dedicated most of his life to collecting and studying antique Russian icons, we have direct access to some of the world's most reputable museum experts on religion icons and artifacts of any kind. Plus, we have tremendous market knowledge gathered from numerous auctions and retail sales, which we can put to work for you. This all makes Russian Icon an excellent choice for antique icon appraisal not only in New York but worldwide.
Why choose our appraisal services?
Reputation – We attract to work only professionals with extensive experience in antique icon appraisal. Our reputation is important to us, and we make every effort to maintain it high.
Comprehensive services – Expert appraisal is not the only service we offer at Russian Icon. Whether you need advisory and management services or want to restore and sell your icon, we can help you with that too.
Experience – Our 25 years of experience and professional skills guarantee a deep knowledge of everything related to antique icons and religious artifacts.
Personalized customer service – We are aimed at providing only the best service tailored to meet the personal needs of every customer.
Reasonable price – All our services are reasonably priced, without any hidden charges and fees. Moreover, we always do our best to find the most cost-effective solution to meet the customer's budget.
Whether it comes to antique icon appraisal, estimate, or any other service we offer at Russian Icon, you are sure to be satisfied with our work. Contact our team now for more detailed information!