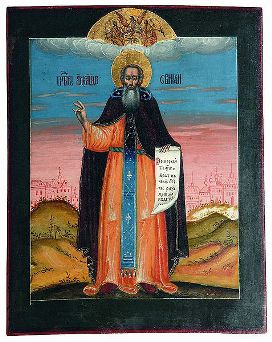 Alexander Svirsky: His Faithful Service to God and Miraculous Icon
Alexander Svirsky was born in the middle of the 15th century in a family of peasants who lived in a village located on the Svir River tributary. The parents of the future saint were childless for a long time. Being righteous Christians, they asked God for an heir, and after their long-awaited son was born, they named him Amos in honor of the biblical prophet. Since childhood, Amos was showing a keen interest in praying and the study of theology. At the age of twelve, he took monastic vows, receiving the Orthodox name of Alexander.
Alexander spent seven years in humble service to God. At the end of that period, the image of the Holy Trinity appeared to the young man. Before that, only prophet Abraham had ever seen the Three Faces of God. After his conversation with the Lord, Alexander Svirsky decided to initiate the construction of the temple. The saint devoted many years to the creation and decoration of the temple erected on the exact spot pointed out to him by the Holy Trinity. Today, this holy place is occupied by the Trinity Cathedral, the most beautiful religious institution in Russia.
Alexander Svirsky died in 1533. He spent his last years sitting on the stone during the nights, praying and paying homage to the Mother of God.
The Icon of Alexander Svirsky
As for the Russian icons art dedicated to Svirsky, the first divine image of the saint was created after his death. Copies made from the original piece quickly spread throughout Russia. Today, the icon of the saint can be found in the Northern part of the Russian iconostasis in many churches.
Alexander is often depicted with a halo over his head and a staff in his hand as if praying for the souls of everyone on the planet. It is interesting that this image is based on the relics of the saint, which are considered miraculous. Scientists are unable to explain the fact why they remain untouched by time. Besides, when the coffin of the saint was opened, his relics began to exude myrrh. Church ministers noticed that the aroma of myrrh and its quantity were directly related to the number of parishioners and whether they came to see the relics or ask for wonder. Without a doubt, the relics of Alexander Svirsky are a real treasure of the entire Orthodox world.