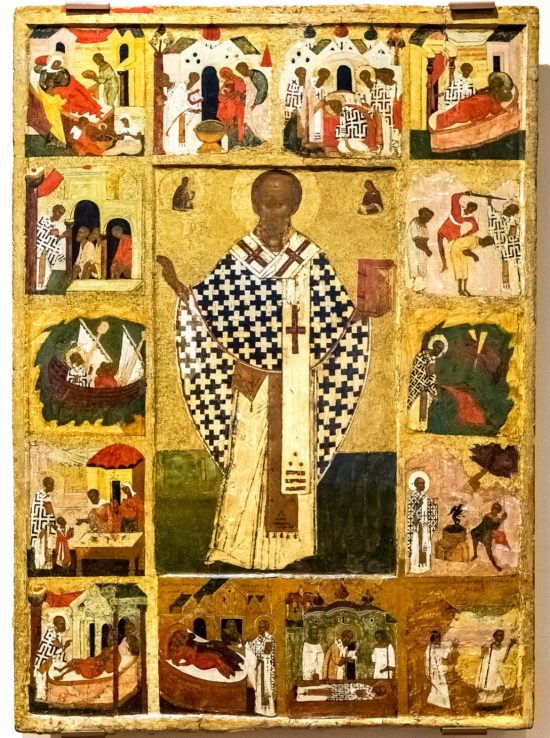 About the Importance of St Nicholas Icon
Every year on December 19th, Eastern Orthodox Christians joyfully celebrate St. Nicholas Day. This saint, also known as Nicholas the Wonderworker, is one of the most beloved saints among all Christians. Both children and adults look forward to the feast of St. Nicholas, which is associated with joy, miracles, and gifts. St Nicholas icon rightfully stands alongside icons of the Mother of God and Christ, as all the faithful sincerely believe in its spiritual power and consider it miraculous.
The life and miracles of Saint Nicholas
St. Nicholas the Wonderworker is believed to be born in 270 A.D. in the city of Patara. Since his early years, he was used to living a righteous life and studying the Holy Scriptures. The main trait of St. Nicholas, which made him one of the most revered saints today, was his unselfishness and desire to help all those in need. The saint stood up for justice and interceded for the innocent in every way. For this reason, he is considered the patron saint of children, the falsely accused, and repentant convicts.
There are many legends about the miracles and kind deeds of St. Nicholas the Wonderworker. A well-known case occurred when the saint saved the three daughters of a poor man who could not marry them off. The saint generously brought them money to save the girls from the life of sin.
The description and meaning of St Nicholas Icon
Icons of St. Nicholas are considered the most numerous after the icons of the Mother of God. The saint is traditionally depicted as an old man with graying hair and a beard, whose gaze is filled with kindness and wisdom. He usually wears an omophorion, the attire of an Orthodox bishop, and holds the Gospel in his hands. Sometimes, St Nicholas icon portrays the saint with outstretched arms. This gesture symbolizes blessing and protection for all in need.
St. Nicholas is often portrayed in religious icons as the patron saint of children, sailors, and the poor. Depending on this, one may find silhouettes of ships, figures of children, or attributes associated with the saint's many miracles painted in the background.
St Nicholas icon possesses healing and miraculous power since Nicholas the Wonderworker is the embodiment of the greatest kindness and sincerity. Praying in front of the icon of Saint Nicholas helps people believe in miracles and escape their ailments.